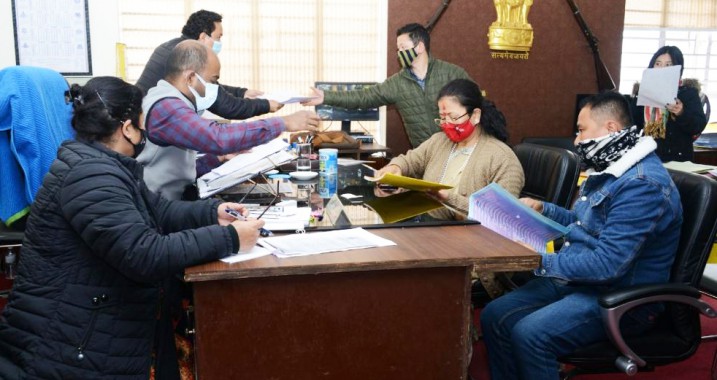 Sunday, Mar 07, 2021 08:30 [IST]
Last Update: Sunday, Mar 07, 2021 02:51 [IST]
12 file nominations for GMC, two for SNP
KUNAL RAI
Kala Rai submits nomination from Lower Sichey
GANGTOK,: Fourteen candidates on Saturday submitted their nominations for the urban local bodies in east district at the office of East municipal returning officer here.
Among them, two were for Singtam Nagar Panchayat. Both Manoj Gupta and Rupesh Kumar Prasad filed their nominations for Daragaon ward of the Singtam Nagar Panchayat.
Remaining 12 nominations were for various wards under Gangtok Municipal Corporation (GMC). They are Pempa Lhamu Tamang (Tibet Road), Damber Kumar Chettri, Navraj Tiwari and Indra Kumar Gurung (Arithang-II), Prem Prakash Goyal and Kailash Chandra Pradhan (Upper M.G. Marg), Chungkela Lepcha (Chandmari), Ram Giri and Saroj Gurung (Burtuk), Manju Rai (Lower Tadong-6th Mile), Kailash Chandra Pradhan (Lower M.G. Marg-Lall Bazaar) and Kala Rai (Lower Sichey).
Speaking with SIKKIM EXPRESS, Kala Rai maintained that she had no plans to contest the civic polls but had to bow down to the pressure and wishes of the people of Lower Sichey ward. She is contesting as an independent candidate like other candidates in the municipal elections.
"I have been active in social work in my area for a long time. The local residents considering my social service wanted me to participate in the municipal elections. They approached me to contest with a view to bring a qualitative change for the local society," said Rai.
Rai is also a senior functionary in the ruling SKM. She stressed that she is contesting as an individual independent candidate and urged voters of Lower Sichey to consider her as an independent individual candidate. I want to serve my society and my ward to best of my ability, she said.
"I am the daughter of my ward. I am aware of all the problems of the ward. There is much to be done for the development of Lower Sichey and I am confident to meet the people's developmental requirements," said Rai.
The last date for submission of nominations is on March 8 (Monday) followed by scrutiny on March 9. The last date for withdrawal of nominations is March 11.