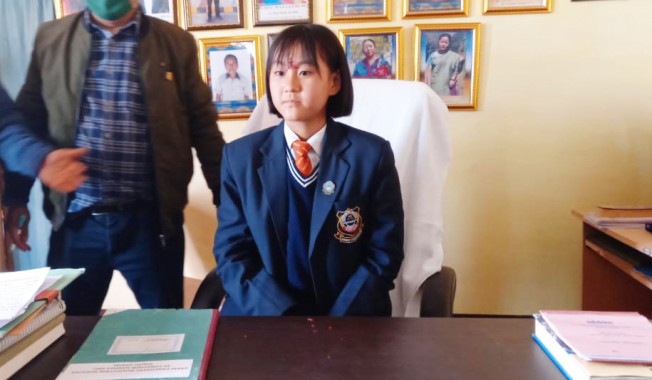 Friday, Feb 26, 2021 07:30 [IST]
Last Update: Friday, Feb 26, 2021 02:02 [IST]
15-year-old takes over as panchayat president for a day
GANGTOK,: Priyanka Rai, a 15-year-old student, was designated as panchayat president of Lungchok- Kameray GPU in South Sikkim today. During her one-day stint, the teenager placed proposals to organise awareness programmes on drug abuse, women empowerment and child abuse. She also suggested holding Bal Mela for youngsters to explore the hidden talents, informs a press release.
Priyanka is a 10th standard student at Sumbuk senior secondary school and a resident of Lungchok ward.
District child protection officer Roshnila Gurung appreciated the GPU for setting an example by involving younger generation on the affairs of Panchayati Raj.
Speaking on the proposals placed by Priyanka, the DCPO said there is a lot to be done on the issues of child protection and child empowerment and added that awareness programmes and seminars will go a long way in achieving the target.
Priyanka along with Suhana Rai from Lungchok-Kamerey GPU have also been selected as members of district child parliament to be held at Namchi on February 28.
"This year we sent Swastika Manger, a 16-year-old girl from Poklok Denchung GPU to represent Sikkim at National Inclusive Children's Parliament. She bagged second highest votes to get elected as deputy Prime Minister. We will be sending Priyanka Rai from this GPU next," said Gurung.
The CDPO also assured to ensure that proposals made by Priyanka turn into action.
Panchayat president Deoraj Rai said the initiative was taken to motivate and inspire youngsters like Priyanka towards serving the society involve them in rural governance. He also highlighted the activities and developmental works carried out in the GPU.