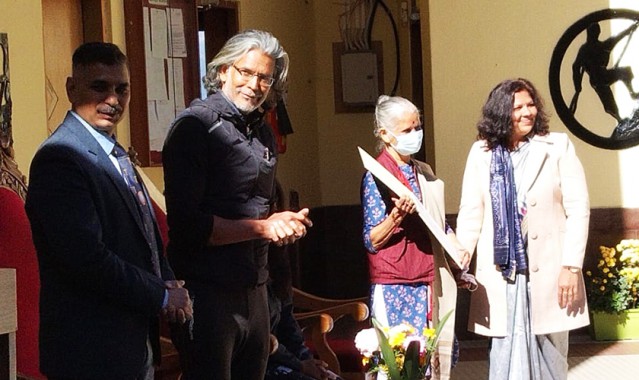 Monday, Nov 30, 2020 07:45 [IST]
Last Update: Monday, Nov 30, 2020 02:21 [IST]
81-year-old walks Phalut trek with son Milind Soman
Our Correspondent

DARJEELING,: Usha Soman, an 81-year-old lady, has given an example of determination prevailing over age by successfully doing a high-altitude trek of 50 km to Phalut located at a height of about 11,811 ft.
Usha is the mother of actor-fitness expert Milind Soman who along with his wife Anita Konwar joined the octogenarian in the trek from Maneybhanjyang to Phalut above Sandakhpu. They were accompanied by a team of Darjeeling-based Himalayan Mountaineering Institute (HMI) which felicitated them on Sunday.
It was a five-day trek with the Soman family returning to Darjeeling on Saturday.
"I had told my mother that I am going to Darjeeling to take part in the hill marathon. She wanted to come with us as she had heard about the beautiful treks here. She wanted to trek all the way to Sandakhpu as she loves trekking and has been doing it for about 20 years now," said Milind.
Usha, speaking with media, shared about her Phalut trek experience.
"I do not think about age and do what I can do. I have wanted to go to Sandakhpu for many years and I had to try it this time. The experience was good and we got good help from the HMI team which went with us. I had no problems as the trek went smooth and the high altitude did not pose any problem for me," said Usha.
HMI principal Jai Kishan said: "We can achieve anything if we have a passion as demonstrated by Usha Soman. Though she is 81 years old, she trekked and returned with success."
Milind had got in touch with the HMI for the trek with the institute volunteering to give them a support crew.
"I had heard a lot about Sandakhpu but the experience there was even more beautiful. The sunrise, the sunset and the mountain ranges were awesome. We want to come here again and again," said Milind.