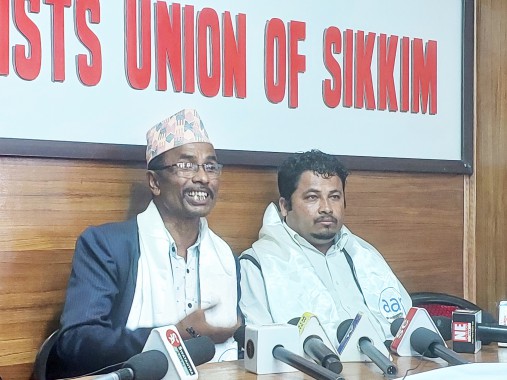 Thursday, Sep 22, 2022 08:00 [IST]
Last Update: Thursday, Sep 22, 2022 02:19 [IST]
AAP re-enters Sikkim politics with corruption jibe
GANGTOK,: Aam Aadmi Party (AAP) has announced its re-entry in Sikkim politics. With a vision of becoming, the voice of the voiceless and anti-corruption Aam Admi Party wants to establish themselves as a strong opposition in Sikkim.
Addressing the media conference here today, K.L. Thapa from Tashiding highlighted numerous issues pertaining to the State like tribal status to 12 left out communities, LT seat reservation, restoration of lost Nepali seat in the State Assembly and eradication of corruption.
Thapa said, "We have joined Aam Aadmi Party to make Sikkim corruption free which is the biggest issue in Sikkim and till date there is no initiative has been taken to curb the corruption which is jeopardising the development of the State.
"Delhi's model has emerged as an exemplary model and appreciated in national and international level. We want to be the part of such developmental model so that our State too develops. The sectors much talked about the Delhi model are education and health, here we are also doing good but due to lack in implementation of polices we are lacking behind", he added.
"The best thing to learn from Delhi model is the entrepreneurship class being imparted to the students of XI standard onwards, these classes makes the student self-reliant and independent in their work, action. The unemployment problem soaring immensely in the State, so instead of just impeding bookish knowledge, if we have to introduce entrepreneurship classes to make our youths self-reliant", Thapa said.
"The ideology of AAP which is humanity, honesty and patriotism is what attracted us to join them. It is the vision of Chief Minister of Delhi and AAP's national convenor Arvind Kejriwal of 'Making India No' 1' which we consider is very important and every citizen needs to extend support and be part of the vision", added Thapa.
Philip Lamichaney maintained that AAP Sikkim have a total strength of 90 members currently but we want more to join the vision and mission of AAP so that we can make our State number one is all aspect and sector.
He said that in days to come a proper reintroduction, formal relaunch of the party will be done in the State.