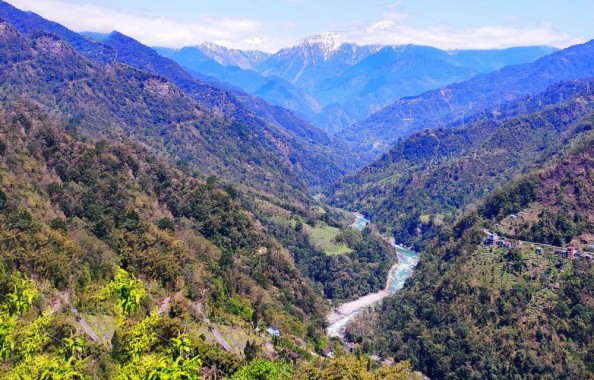 Tuesday, Sep 22, 2020 11:00 [IST]
Last Update: Tuesday, Sep 22, 2020 05:28 [IST]
ACT, Save Dzongu condemn Power minister's statement
SE Report
GANGTOK: The Affected Citizens of Teesta (ACT) and Save Dzongu group have condemned the recent reported statement of Power minister M.N. Sherpa to one of the national news agencies.
Minister M.N. Sherpa during an interview with The Asian Chronicle had stated that majority of land owners have given consent to the NHPC Teesta Stage-IV hydroelectric power project and had suggested that they (present SKM government) were not liable since the project was approved during the erstwhile SDF government, as per the ACT release.
"This statement came at a time when not just Dzongu but whole of Sikkim is raising protest and concern about the NHPC Stage-IV project and its negative implications to the river ecology of the State," reads a statement issued by ACT general secretary Gyatso Lepcha and Save Dzongu president Ugen Lepcha on Monday.
The 520 Mw power project is proposed in Dzongu.
"We would like to remind the hon'ble minister that Gram Sabha of Forest Right Act for Stage-IV has been objected by the four GPUs and there is a complaint filed by the organizations in MoEF. The recent meeting of the zilla panchayats and panchayat presidents of eight GPUs of Dzongu gives the clear picture of how the majority public never wants to see this destructive project in the region," the press release adds.
They have further added that the minister's statement has also misled people and is losing the people's faith on the government which came into power with the agenda to stop the rampant onslaught on Teesta river ecology.
"The new government we believe was formed to correct the blunders of the past and not to repeat or carry forward the same onslaught of our rivers, land and indigenous people's rights.
"Power minister should do thorough research on the ground story and the history of this controversial project and give statement.This kind of claim will bring mistrust between the government and people. We urge to the government to really take this matter in priority and scrap this controversial NHPC Stage-IV project and safe the last stretch of free flowing river," the release adds.