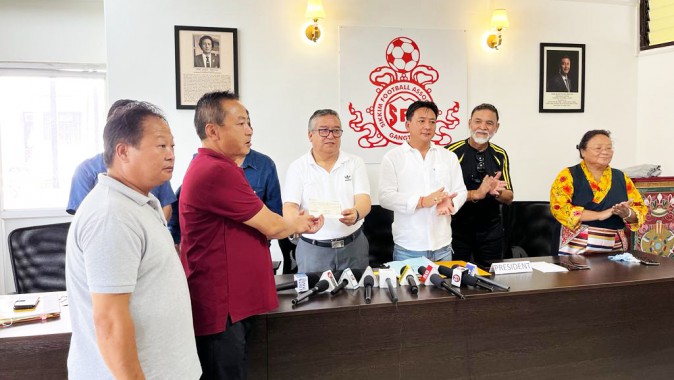 Wednesday, Aug 17, 2022 10:00 [IST]
Last Update: Wednesday, Aug 17, 2022 04:25 [IST]
All Sikkim Chief Minister's League Football Championship from Aug end
DICHEN ONGMU
GANGTOK,: Sikkim Football Association (SFA) and Sports & Youth Affairs department (SYA) will jointly organise All Sikkim Chief Minister's League Football Championship 2022 tentatively from August 29.
The tournament is being conducted under the direction of Chief Minister P.S. Golay with an aim to promote football and footballers from grassroots level, the SFA said.
Addressing the press conference here on Tuesday, SFA president Menla Ethenpa informed that they have received a grant of Rs. 50 lakh from the State government for the tournament.
The championship has been categorised as C Division competition of the Sikkim League.
"The tournament is going to be a historic one where the State government has come forward to support in organizing the local league. We assure to conduct it rightfully and pledge to make it a grand success by spotting talents from the grassroots level as aimed by the Chief Minister and sharpening their skills," said Ethenpa.
He informed that to provide platform and opportunity to the players, SFA decided to conduct league matches first. It will be a long calendar which will start at the block level and then at district-level and finally conclude at the State-level, said Ethenpa.
Speaking further about the tournament, SFA general secretary Phurba Sherpa informed that the tournament will have 137 league matches and nine knock-out matches featuring 50 teams across six districts. A total of 33 BACs have registered so far for the tournament, however the slots are now made open for the registered football clubs, said Sherpa.
Sherpa said, "The team should consist of local players with at least five under-21 players belonging to their respective BAC or district. No outsiders will be allowed in the tournament since the best players will get to represent the State team in NorthEast Olympic Games at Shillong."
Likewise, women's league will also be held simultaneously where the winning team will represent the State at Shillong.
Sports joint director Doneev Rai informed that after the direction of the Chief Minister in June this year the league was finalised after a series of meetings with the concerned authorities. He mentioned that the department has been providing the logistic support and engaging manpower from the BAC level and formed district committees for the championship.
The district-level matches will be held at Paljor Stadium (Gangtok), Bhaichung Stadium (Namchi), St. Xavier's School ground (Pakyong), Soreng school ground (Soreng), Mangan school ground (Mangan) and Kyongsa playground (Geyzing).
The SFA also handed over a grant of Rs. 50,000 to Sikkim Himalayan SC today for the upcoming Sikkim Premier Division.