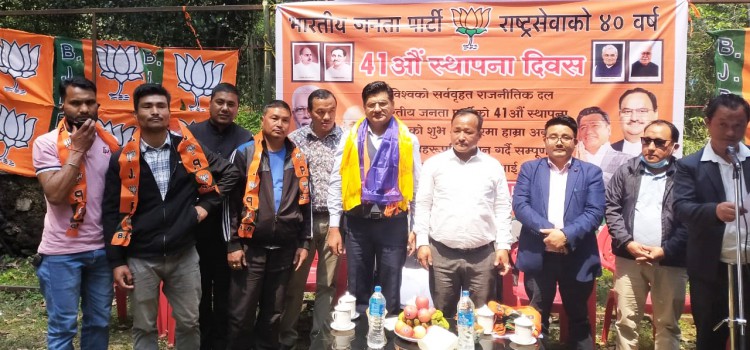 Wednesday, Apr 07, 2021 07:00 [IST]
Last Update: Wednesday, Apr 07, 2021 01:28 [IST]
Alliance govt will resolve pending political demands of Sikkim: Chauhan
GANGTOK,: The Sikkim BJP unit on Tuesday celebrated the 41st BJP foundation day in different constituencies of the State, a party release informs.
State BJP president D.B. Chauhan was the chief guest for the foundation day programme held at Namprikdang, Dzongu for three constituencies of North Sikkim.
In his address, Chauhan said BJP is in alliance with the ruling SKM in Sikkim. We are fulfilling our role as an alliance partner for development of Sikkim and in coming days, this alliance government will resolve the problems and issues of the people here one by one, he said.
The State BJP president mentioned that the Centre is committed for the holistic development of Sikkim. The Centre is working to replace more than 100 weak bridges here and install new bridges to strengthen road connectivity in Sikkim, he said.
Chauhan shared that Chief Minister P.S. Golay has a good relationship with the Centre and the BJP-led Union government is serious for Sikkim's development. This will further strengthen the road for Sikkim's development in coming days, he said. No matter whatever calamity comes or Covid pandemic, the Modi-led Union government and the alliance government in Sikkim under the leadership of P.S. Golay are working together, he said.
The pending political and social justice demands of Sikkim will be resolved in a phase-wise manner by the SKM-BJP alliance government, said the State BJP president. He urged the cadre of both parties to work together for sensitizing the people on the alliance government and to strengthen the alliance between BJP and SKM.
More than 350 families joined the BJP during the foundation day programmes held in different parts of the State, the release mentions.