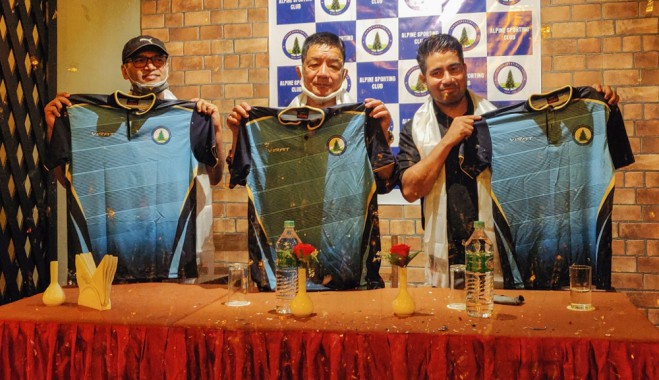 Sunday, Oct 18, 2020 12:00 [IST]
Last Update: Sunday, Oct 18, 2020 06:29 [IST]
Alpine Sporting Club unveils jersey
ISABELLA GURUNG
GANGTOK: Alpine Sporting Club (ASC), one of the oldest cricket clubs of Sikkim, unveiled their jersey today at a local hotel here.The jersey was unveiled by ASC president T.K. Subba, general secretary BinodAdhikari and captainNileshLamichaney.
ASC is all set to compete in the knockout phase of the two-tier cricket tournament organised by Sikkim Cricket Association (SCA) starting Sunday at Reshithang ground near Gangtok.
The knockout competition having 18 teams is the second phase of the two-tier club cricket competition which was halted in February due to lockdown.
Established in 1995, ASC is one of those clubs that started the club cricket culture in Sikkim. They have participated in various tournaments in within and outside the State.
ASC have also won the Kalu Ram Thirani Trophy (2007-08) and Piranas Trophy (1997, 1998 and 1999).
On the occasion, the club also felicitated former and current members Amos Rai, LakpaChettri, Chewang Lama, NayanBhutia, MukeshLama, NileshLamichaneyand AshishThapa.