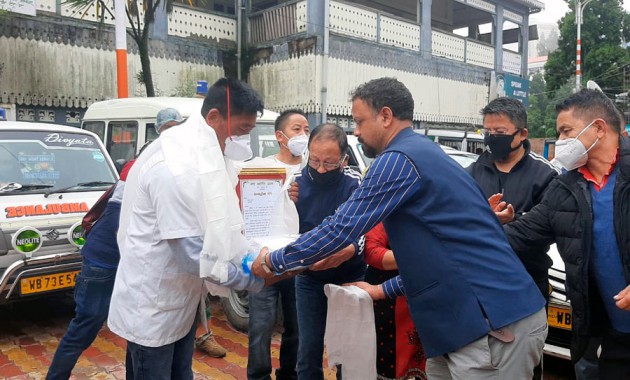 Wednesday, Jul 08, 2020 12:30 [IST]
Last Update: Wednesday, Jul 08, 2020 06:48 [IST]
Ambulance driver feted for Covid services
Our Correspondent
DARJEELING: His six-year-old son constantly calls him to come and meet him, but it has been about three months that Amir Gurung has not met his son even though his house is just 1 km away from town.
Gurung, 44 years old, is an ambulance driver who has been taking Covid-19 patients to Silguri since the pandemic hit Darjeeling. As a precautionary measure, the frontliner does not visit his house near Lewis Jubilee Complex where his wife and two sons, aged 6 years and 16 years, stay.
"I have been staying in the hospital itself after I started Covid duty. I have to think of my family members' safety also. I have not gone home for the entire period and not met them. However, I am in constant touch with them through phone and they ask me if I had my food and how I am," said Gurung.
"Earlier I was given accommodation in a hall in the hospital but after I had a talk with the authorities there they gave me a separate cabin with a joint bathroom. The nurses there provide me with food and are very helpful. Sometimes I prepare my own food," he added.
Speaking about his experience, Gurung said, "At first when I started taking Covid positive patients to Siliguri there was a certain fear in my mind. But now I do not feel scared as I am doing work that is saving people's lives. Moreover, the Covid positive people I have taken to Siliguri in the end have all tested negative and come back."
"I feel that till now whatever I have seen being Covid positive does not mean you will die and would like to make people aware of this," said Gurung who has been driving an ambulance there for three years now.
Gurung is not only taking Covid positive people to Siliguri but also transferring people coming from outside to quarantine centres. He is picking up people from far off places like Bijanbari, Rimbick, Lodhama and Kaijaley among other places. Many of these places have a rough terrain with him never having gone to some of these places.
It been a month or so that more four ambulances have been pressed in service at Darjeeling but it is Gurung who usually transports Covid positive patients to Siliguri and sometimes also brings them back after their results comes negative. He faced social stigma in the initial period which lessened considerably in course of time.
"I did feel a sort of depression when friends started to avoid me. At some canteens, I was not allowed to go in and was given tea outside. The hospital authorities sorted this out in places around the hospital premises and I do not have to face it anymore," said Gurung maintaining that his dedication to his work remained as he wanted to save lives.
The Naya Jyoti Gram Samaj near Eden District Hospital premises felicitated Gurung in recognition of his his selfless work.
"He is a hero in the true sense as without caring for his life he is doing this work. We see him taking Covid patients to Siliguri and also hear that he is not given water or food in many places. He has also not met his family for so long but he continues to do his work selflessly. We just wanted to honour him for all this," said Naya Jyoti Gram Samaj secretary Rajesh Rajak.