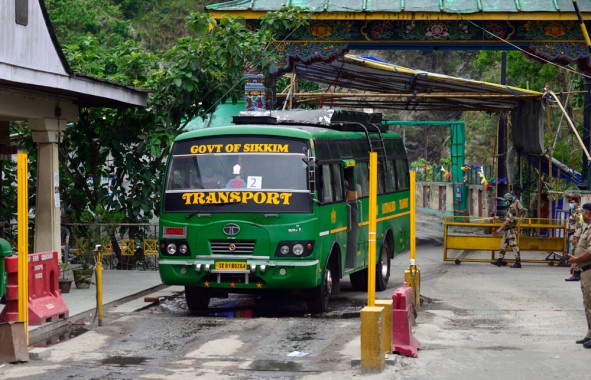 Friday, Jul 10, 2020 12:15 [IST]
Last Update: Friday, Jul 10, 2020 06:49 [IST]
Antigen testing at Rangpo expected from Saturday
Army & paramilitary personnel to be sent back to Siliguri if antigen result comes positive
Staff Reporter
GANGTOK: A returnee from Patna has tested positive for coronavirus which keeps the State's Covid-19 tally of active cases at 49.
In his Thursday health bulletin, Health director general-cum-secretary Dr. Pempa T. Bhutia informed that the 25-year-old youth had reached Sikkim from Patna on June 29 along with three others. All four were staying in a paid quarantine centre at Gangtok and test report on Wednesday evening came positive for one returnee, he said.
The youth has been shifted to the isolation ward in STNM hospital here which has now 49 patients. The other three co-returnees have been contained in the hotel.
Dr. Pempa also clarified that the free Covid-19 testing is for those having any one of the four documents - Subject Certificates, Certificate of Identification, Residential Certificate and voter identity card of Sikkim.
There was some miscommunication earlier wherein it was understood that Covid-19 testing was free for only Sikkim Subject Certificate or Certificate of Identification holders, said the Health director general. It was cleared today that testing is free for those having any of the four documents and they would not be charged, he said.
The rate for Covid-19 testing in Sikkim is Rs. 3500 for RTPCR test and Rs. 2000 for Trunet testing. Those not falling in the above four categories will have to pay the Health department for Covid-19 testing.
Those coming to Sikkim for business trip or coming from companies and projects would have to pay for the tests, said Dr. Pempa. He informed that even the military and paramilitary personnel entering Sikkim will have to pay for the tests.
However, an understanding has been reached that the Health department will do free antigen tests at Rangpo checkpost for the army and paramilitary forces coming to Sikkim for 15 days, said Dr. Pempa. But if they want to do Trunet or RTPCR tests then they will be charged, he added.
Regarding antigen testing for Covid-19, Dr. Pempa informed that the Health department is working hard to ensure that the testing system is in place at Rangpo checkpost by Saturday morning. We are hopeful to start the antigen testing from Saturday, he said.
Result of antigen test comes within 30 minutes.
As per the Health director general, positive result in antigen is 100 per cent confirm. Those who come negative in antigen testing will be put under quarantine and then tested again after some days, he said.
Civilians who comes positive in antigen testing at Rangpo will be sent directly to the STNM hospital isolation ward. If they are negative, they will be sent for quarantine.
For the army and paramilitary forces arriving at Rangpo, the antigen test will determine if they are permitted to enter the State or not.
"For the army and paramilitary forces, if anyone shows positive result in the antigen testing then that batch will be sent back to Siliguri to undertake quarantine. The batch coming negative in antigen testing will be forwarded to their respective locations in Sikkim. This has been agreed upon," said Dr. Pempa.