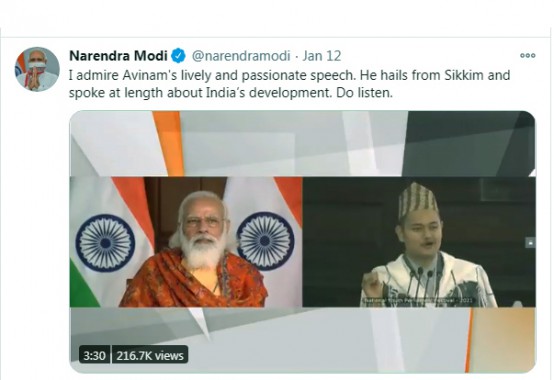 Friday, Jan 15, 2021 05:45 [IST]
Last Update: Friday, Jan 15, 2021 00:15 [IST]
Avinam Manger bags second runner-up position at NYPF
ISABELLA GURUNG
PM Modi tweets Sikkim lad's speech with 'Do listen' caption
GANGTOK,: Gangtok lad Avinam Manger, who bagged second runner-up position at National Youth Parliament Festival 2021 held earlier this week, has also drawn rich praise from Prime Minister Narendra Modi.
The 21-year-old delivered a passionate speech on the topic 'Vocal for Local: Pathway to Transformational Change to make India an economic superpower' at the Central Hall of the Parliament, garnering praise from the Prime Minister himself.
The Prime Minister on Tuesday tweeted a footage of Avinam's speech with a caption: "I admire Avinam's lively and passionate speech. He hails from Sikkim and spoke at length about India's development. Do listen."
"It feels nice to secure second runner-up position at the nation's parliament. To be very honest, it wasn't expected at all because all the participants were equally good and talented and had so many ideas and positivity. There was a difference of very few marks among the winners. I was shocked when my name was called out. I think the judges were looking for originality. There was a huge applause from the audience present," expressed Avinam.
The National Youth Parliament Festival held on January 11 and 12 had top three winners from all the States. All the first rank holders from the 28 States delivered speech of four minutes each. The winners were judged on their speech.
Lok Sabha speaker Om Birla and Union Education minister Ramesh Pokhriyal 'Nishank', among others, were also present.
Avinam added, "What I feel is winning and losing is not important but participation and representing your State at the national parliament is the most important. To be in the central hall where our Constitution was written is what matters. I was sitting and speaking in the space where the visionary leaders of our nation sat."
Avinam also thanked his well-wishers for remembering him in their prayers.
The youth parliament was conducted in three levels viz. district level, State and national level across India.  
Avinam, originally from Dikchu, East Sikkim, was born and brought-up in Tibet Road here by his parents D.N. Manger and Jashodha Gurung.
He is currently pursuing literature at Nar Bahadur Bhandari Degree College, Tadong. He is also a writer and a poet. His poems have been published in 'Aulos', an anthology of poems and one research paper has been published by the University of California. He is also an active NGO member.