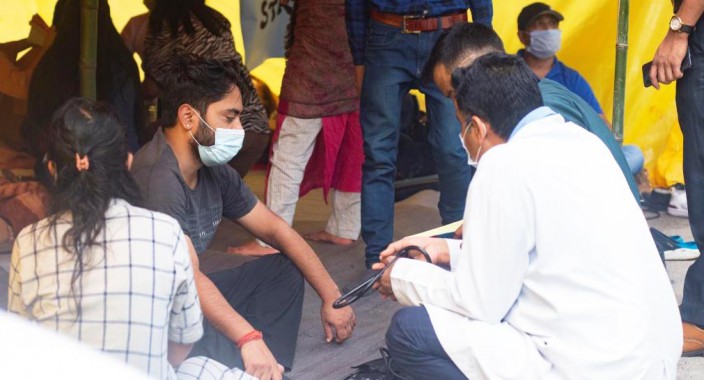 Wednesday, Sep 08, 2021 05:30 [IST]
Last Update: Tuesday, Sep 07, 2021 23:47 [IST]
Cheap attempts being made to politicise our movement: Adhoc teachers
DICHEN ONGMU
GANGTOK,: The adhoc teachers on a dharna and indefinite hunger strike here before East DAC complex, Sichey have asserted to continue with the agitation till their demands are fulfilled by the State government. We will not move from the spot till our demands are met, said the adhoc teachers to media on Tuesday.
Meanwhile, one out of the five teachers on the indefinite hunger strike, has withdrawn his participation from the hunger strike citing personal reasons. He, however, pledged to extend moral support to his colleagues.
One of the agitating adhoc teachers said he is being targeted with defamatory allegations in social media. He also condemned a particular social media post which tries to portray him as a plant of the opposition SDF.
These are some kind of cheap attempts to give political colour to our justified demands by circulating CCTV footages in social media, said the adhoc teacher. He questioned how the CCTV footage got leaked and circulated in social media without the consent of the competent authority. I have submitted memorandums to the DC and SP in this matter, he said.
SP (east) Siva Prasad Yellasiri informed the media that the police will take up the viral CCTV footage case only if the complainant files a complaint in the court as a case of defamation. In such offences, no case can be registered or investigated unless the court directs the police, he added.
The media also contacted the nodal officer of Gangtok Smart City project since the CCTV installed in the protest site falls under their project. Asked on the CCTV footage, the nodal officer denied receiving any information regarding the viral footage.
"Only five of us have access to the CCTV footage and we haven't received any information of someone seeking for this particular video footage which got viral on social media. Now we are aware about this misconduct from the media, we will enquire about it with Sadar police station and then decide on our further course of action", informed the nodal officer.
Meanwhile, a medical team visited the dharna site and checked the health of the adhoc teachers on the hunger strike.
The team informed that condition of the teachers on the hunger strike is normal at present. However, few of them have low blood pressure and were suggested to consume ORS and glucose.