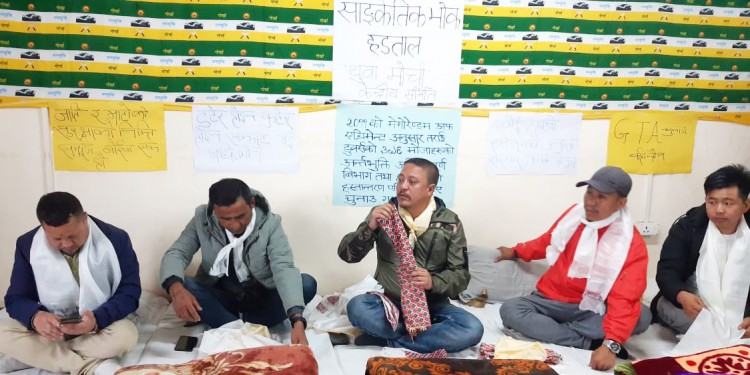 Tuesday, May 17, 2022 07:45 [IST]
Last Update: Tuesday, May 17, 2022 02:13 [IST]
Citizen's Forum seeks clarification from Centre, GJM on their stand on GTA
DARJEELING,: The Citizen's Forum, an apolitical body, today demanded clarification from both the Centre and the Gorkha Janmukti Morcha on their stand on the Gorkhaland Territorial Administration (GTA) and its election.
The Forum, which is against the GTA, said they feel GTA is a failure and in its place, there should be a permanent political solution with the best option for it being Statehood.
Speaking at a press conference today, forum member Swaraj Thapa said, "There were three signatories of the GTA MoA which includes representatives of the Home Ministry, State government and the Morcha. But through media reports, we have come to know that both the Centre and the Morcha are against the GTA. They owe it to the people to provide in writing their stand on the GTA as people are in confusion regarding the body and its election which is most likely to be held soon."
Recently, during his visit to North Bengal, Home minister Amit Shah had maintained that GTA was not the answer to fulfil the aspirations of the people while the Morcha has already started a hunger strike against the election of the body, demanding that the GTA MoA should first be implemented in totality. Though the dates of the election are yet to be announced, the State government has appointed Jalpaiguri divisional commissioner as the election authority and Darjeeling district magistrate as the election officer for the semi-autonomous body.
Speaking about the elections, Thapa said, "The announcement by the State government to hold the election of the GTA has triggered a range of controversies and confusion in the areas covered by the GTA. The body's elected term of five years was over in mid-2017. Since then, it has been run under various ad hoc arrangements including by two nominated administrators and by the district administration since the last five years."