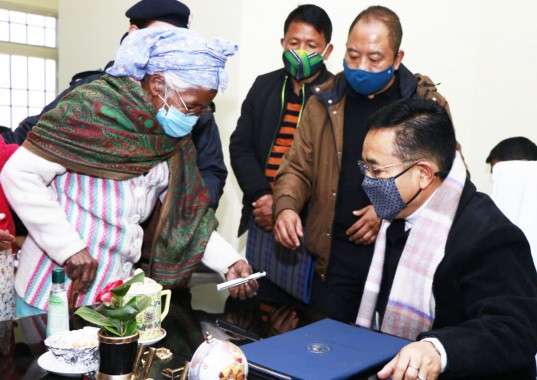 Thursday, Jan 14, 2021 07:45 [IST]
Last Update: Thursday, Jan 14, 2021 02:04 [IST]
CM begins tour of Poklok-Kamrang, meets local public
GANGTOK,: Chief Minister P.S. Golay today interacted with the public of Sorok Sampani, Damthang and Assangthang GPUs at Assangthang helipad near Namchi. Present at the meeting were heads and senior officials of various departments, an IPR release from Namchi informs.
The Chief Minister is on a three-day visit of his home constituency of Poklok-Kamrang. Tomorrow, he will be visiting the locals of Salghari, Tinik Chisopani and Poklok-Denchung at Nandugaon BAC followed by his visit on January 15 to Sikkip BAC.
During the public meeting, the Chief Minister distributed 18 wheelchairs along with air mattresses to the locals of Poklok-Kamrang constituency. He also gave away Xerox machines to Self Help Groups of Upper Kamrang and provided agricultural loans which were coordinated by Kisan Morcha and amounting to Rs. 6 lakh was given to Pragati Self Help Group from Lower Sorok.
A total of 12 numbers of Jhora training work order provision under Water Resources department amounting to Rs. 6 lakh each were handed over to the youths of Poklok-Kamrang constituency.
Additionally, the Chief Minister's spouse Krishna Kumari Rai handed over desktop and printer to the Self Help Group of Upper Kamrang, the IPR release mentions.