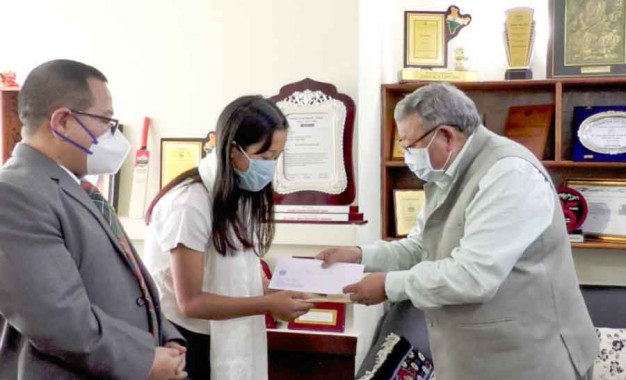 Saturday, Aug 08, 2020 14:00 [IST]
Last Update: Saturday, Aug 08, 2020 08:20 [IST]
CM extends support to Sikkim student for UK varsity study
SE Report
GANGTOK: State Education minister Kunga Nima Lepcha today presented a cheque of Rs.3 lakh to DikiChoden Bhutia of Rhamthang, North Sikkim as a one-time financial assistance to meet her initial expenses for admission, health insurance, visa fee and air fare for pursuing B.Sc (Psychology) at Queen Mary University of London.
Present during the occasion were LokSabha MP Indra Hang Subba, Education secretaryAnil Raj Rai, director S.T. Bhutia and DikiChoden's mother. The cheque amount was sanctioned by the Chief Minister from Chief Minister's discretionary fund, a press release from the Education department informs.
DikiChoden Bhutia is a recipient of Chief Minister's Merit Scholarship Scheme (CMMSS) and was studying in one of the best residential schools in India, ScindiaKanyaVidyalaya (SKV), Gwalior. She passed CBSE class XII with flying colours and secured 95.4 percent in Humanities stream and got selected for full scholarship to pursue her undergraduate course at Queen Mary University of London under a scholarship.
The scholarship is a tie-up scheme between SKVand International Students House, London.
DikiChodenwas the school head girl for the year 2019-20 and also the recipient of most coveted Spirit of SKV Trophy. She has also excelled in sports and other co-curricular activities. Her most notable achievement being agold medal in javelin throw at the CBSE Athletics National Meet, 2019.
Diki thanked the State government for the help extended to her.