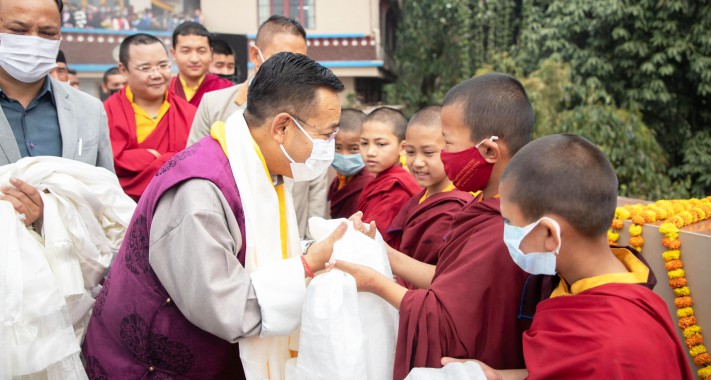 Monday, Mar 21, 2022 07:45 [IST]
Last Update: Monday, Mar 21, 2022 02:07 [IST]
CM inaugurated meditation centre at Bojoghari's Gonzang Monastery
GANGTOK, (IPR): Chief Minister Prem Singh Tamang accompanied by his spouse Krishna Rai inaugurated Tara Meditation Centre (Drolma Lhakhang) at Gonzang Monastery, at Bojoghari here today in the presence of Gonzang Rinpoche.
Minister and area MLA Karma Loday Bhutia, ministers K.N. Lepcha, Sonam Lama, B.S. Panth and M.N. Sherpa were also present on the occasion.
The inauguration ceremony commenced with lighting of ceremonial lamps and offering of traditional scarfs to the chief guest and the guest of honour.
Then after, prayers were offered to goddess Drolma by the Chief Minister and his spouse along with the Rinpoche and monks.
Drolma or Tara is a female bodhisattva personifying the transcendental wisdom and active compassion of all the Buddhas. It is said that Drolma is also considered as the Gyalwai Yum or mother of all Buddhas. Tara remains among the most beloved icons from the vast pantheon of Mahayana Buddhism deities, inspiring countless Buddhist saints and lay practitioners on their path to enlightenment. Drolma has 21 primary emanations and each of these is represented by a different colour and a different form. It is also believed that each Tara respectively performs different activities for the welfare of human beings.
Minister Sonam Lama presented a brief note on behalf Gonzang Rinpoche while the welcome address was presented by Khenpo Chowang.
The programme also had the presence of advisors, chairman, officials, dignitaries, representatives of different monasteries, representatives of various organizations, and members of the organizing committee of Tara Meditation Centre, along with devotees at large.