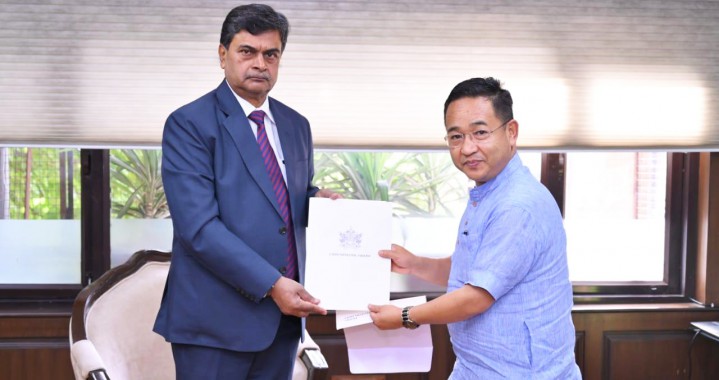 Thursday, Apr 08, 2021 08:15 [IST]
Last Update: Thursday, Apr 08, 2021 02:34 [IST]
CM takes up power issues of Sikkim with Centre
GANGTOK,: Chief Minister P.S. Golay today called on R.K. Singh, MoS for Power, New & Renewable Energy at New Delhi.
An official press release informs that the Chief Minister submitted a memorandum to the MoS to make Sikkim a developed and efficient electricity provider to its consumers through green energy within the State and to consumers outside the State as well. He also requested for the consideration by the power purchasers of other States to fulfil the Hydro power Purchase Obligation. He also discussed the evacuation system for direct withdrawal of free share of power from the State Independent Power Producer (IPP) projects including Teesta Stage-III Hydro Electricity Project.
Provisions for prepaid smart meter system were also discussed in the meeting for which the Chief Minister requested for 90% grant to the State for completing installation of prepaid smart meters, the release informs.
In regards to the solar renewable purchase obligation, the Chief Minister offered a vacant land for the installation of 1 (one) megawatt project at Pakyong and requested the MoS to provide special assistance from the Government of India. He also requested for the cancellation of Power Purchase Agreement (PPA) and withdrawal of all thermal power which in spite of generating surplus green energy is not profiting the State.
The Chief Minister was accompanied by Power minister M.N. Sherpa and the senior officers of the Ministry of Power, New & Renewable Energy. The meeting was very fruitful as the MoS has assured that all the points discussed will be looked into at the earliest, the release mentions.