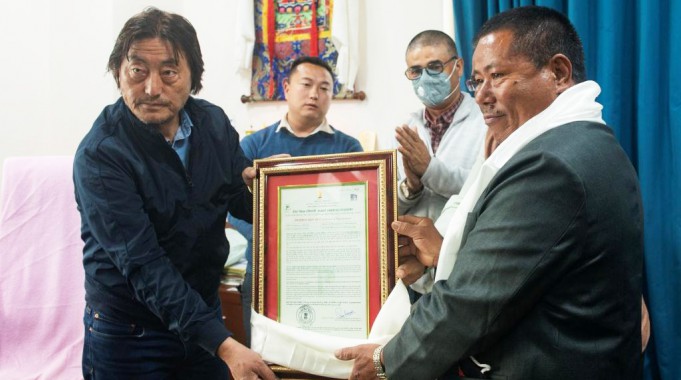 Thursday, Apr 08, 2021 08:15 [IST]
Last Update: Thursday, Apr 08, 2021 02:40 [IST]
COMING SOON: KAILASH RANA MANGER RICE VARIETY
BIJOY GURUNG
Saramsa farmer gets patent protection and rice variety named after him with DST support
GANGTOK,: Kailash Rana Manger, a progressive farmer from Sikkim, is immortalized as a new rice hybrid variety - which he developed indigenously - was patented under his name by a Union government authority.
The 55-year-old rice grower from Saramsa, about 15 km away from Gangtok, can now commercialize the 'Kailash Rana' variety of rice with full legal protection. The Plant Varieties Registry, Government of India, granted the Intellectual Property Rights (IPR) registration to Kailash Rana on January 2020. He is the first farmer from Sikkim to get IPR and registration for an agriculture produce, as per the State authorities.
It grants exclusive rights to the Sikkimese farmer to produce, sell, market, import or export the 'Kailash Rana' rice variety for an initial period of six years which can be renewed annually. He has been cultivating the rice variety in his 1 hectare of land at Saramsa since 2008.
Sikkim State Council of Science & Technology, Science & Technology department had filed for registration of 'Kailash Rana' rice variety under 'Protection of Plant Variety & Farmers' Rights Act 2021'. The application for Intellectual Property Rights was made in 2013.
Science & Technology minister Karma Loday Bhutia on Wednesday handed over the certificate of registration issued by Plant Varieties Registry to Kailash Rana Manger at his office here in Tashiling Secretariat.
Present on the occasion were Science & Technology additional chief secretary M.L. Srivastava, director Dr. B.C. Basistha, assistant scientific officer K.B. Subba and senior research assistant Rajdeep Gurung along with the family members of Kailash Rana.
Minister Karma Loday Bhutia extended his congratulations to Kailash Rana and expressed his happiness on the achievement of the Sikkimese farmer.
"This is great news for the Sikkimese farming community. We also want other farmers to come forward and go for IPR registration for their unique produce. There is also similar scope in medicinal plants, flowers and orchids of Sikkim. The Science & Technology department is ready to provide all assistance to our farmers," said Bhutia.
Speaking to media, Kailash Rana Manger said he was into farming since 1985. He had started experimenting with the cross-breeding of the rice variety in 2005 and got successful results by 2008. He harvests around 18 quintals of rice in his plot of land annually.
"I have not sold my rice in open market so far. This was done to prevent others from copying rice variety and then getting it registered in their name. I have regular customers who come to my place and purchase my harvest annually," said Kailash. He sells the rice variety at Rs. 150 per kg.
The farmer shared that he makes around Rs. 3.60 lakh annually from rice cultivation and about Rs. 2 lakh from vegetable cultivation. He employs two agricultural workers for his farm and plans to expand cultivation of his rice variety after getting the IPR protection.
"Now I have registration and protection for my rice variety, I aim to expand its cultivation and will also share the same with other farmers so they also benefit. They can either market themselves or give their harvest me to do the marketing," said Kailash.
Science & Technology director Dr. B.C. Basistha said the department had moved for registration of the local hybrid rice variety in 2013 under Protection of Plant Variety & Farmers' Right Act 2001.
Dr. Basistha informed the department took Kailash's rice variety to the Plant Varieties Society, New Delhi where it went a lengthy and detailed examination for seven years.
"The experts there grew the rice and studied its genetic trait which was checked against the existing rice gene bank. The rice variety from Sikkim was found new and so it passed the first test. Then it was grown again for two more years to check whether the genetic traits have changed or not. The study was conducted for many years before it was given registration," he said.
The Science & Technology officials appealed the farmers of Sikkim to come forward if they have any unique hybrid crop produce. We will work on the registration part without any fees provided that the produce has unique genetic characteristics, they said.