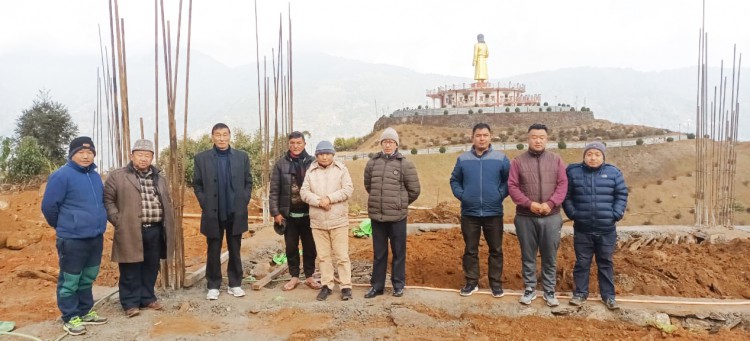 Tuesday, Jan 25, 2022 08:15 [IST]
Last Update: Tuesday, Jan 25, 2022 02:38 [IST]
Committee pleased with progress of Sirijunga Teyongsi complex work
GANGTOK,: An on-site inspection of the second phase work of Sirijunga Teyongsi complex at Hee-Gaon was carried out today by a team comprising of local committee members, government advisor and chairman.
The team was satisfied with the progress of work and the quality, in accordance with the blueprint of the plan. The visiting committee members expressed their gratitude to the Chief Minister P.S. Golay and the government of Sikkim, informs a press release.
The contractor, departmental engineers and supervising support staff also deserve high appreciation for speedy and timely initiation of the project, the team said.
The project includes a multipurpose building, library buildings, Mangheem, prayer hall, and a skywalk bridge connecting Sirijunga statue and the under construction multipurpose building.
"The ongoing construction entails historic value and showcase of the Limboo cultural and traditional heritages for everyone residing across the globe, as a matter of fact, the construction needs utmost care to ensure quality and the sanctity of the Limboo traditions as per the architectural plan," the release states.
During the visit, the team asked the contractor and technical in-charge (West) to maintain the quality and complete within the specific timeframe, for which the committee assured all possible cooperation and support.