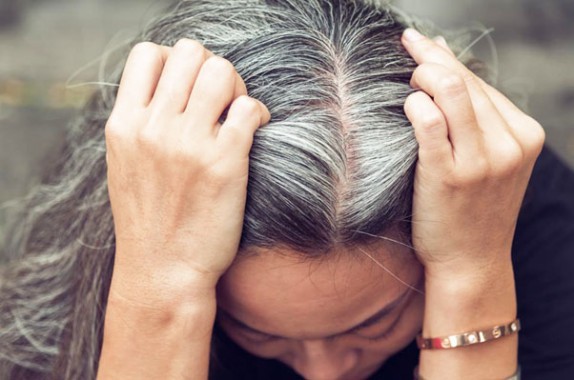 Sunday, Dec 12, 2021 08:45 [IST]
Last Update: Sunday, Dec 12, 2021 03:11 [IST]
Common Habits that Cause Premature Greying of Hair
Shahnaz Husain
Ageing is a natural process. With time, the signs of ageing manifest themselves, with graying hair being one of them. But, in many cases, the hair begins to grey prematurely, at an early age. Naturally, it causes despair and anxiety. This is more so, because the exact causes of hair graying are not really known as yet. Some doctors say that the cause is genetic, while others say that the immune system is responsible. Then, there are those who say that stress, thyroid imbalances or nutritional deficiencies may be the reasons. It is thought that deficiency of Vitamin B12, Vitamins C and E, as well as the shortage of the minerals zinc and copper in the body can affect hair colour and lead to hair turning white.
Due to some internal factors, the melanin, or colouring matter, does not reach the hair follicles. So, the hair follicle produces white hair. Whatever the reason, premature grey hair does present a problem, not only in terms of concealing the white hair, but also to check further graying.
Modern colourants made from vegetable dyes are also available, in the form of "Hair Mascaras." These are somewhat like crayons, which are used to colour strands of the hair. They can disguise strands of grey hair quite effectively. They also help to add glamour to the hair, by colouring strands a different colour from the normal hair colour. Hair mascaras are temporary methods of colouring the hair. They are easier to use and remove and the effect lasts till the next shampoo. The main advantage is that they assure safety from damage to hair structure and texture. We have introduced Hair Touch Up and Herbal Hair Mascaras to camouflage white hair, or to add glamour by streaking the hair. They are available in many shades, like black, brown, copper, bronze, gold and starlight blue.
Henna is a natural hair colourant that is widely used. In the ancient days, walnuts and indigo were used along with henna to colour the hair. Henna colours white hair reddish brown, but does not colour dark hair. We have also introduced Colourveda Natural Hair Colour, which is 100% natural. The natural hair colourants in the product are henna, indigo and catechu. They are available in three colours – blackish brown, brown and burgundy. It also contains many herbs like amla, bhringaraj, brahmi etc, which help to protect the hair and also restore health to the hair. Many of our hair care products like Shatone herbal hair tonic and Shalocks hair oil, as well as hair pack powders like Shacare and Californian Poppy contain natural plant extracts that help to control hair graying, like amla, bhringaraj, brahmi, reetha, shikakai, henna and so on.
Amla is said to control greying. One can consult an Ayurvedic physician and take an amla based tonic. The juice of one raw amla can be taken in a glass of water daily. You can also ask your doctor to prescribe Vitamin C and Vitamin B Complex. Amla may also be added to henna powder. To begin with, the hair that has turned white cannot become dark again, Semi permanent methods, like hair rinses and creams also work by penetrating the cuticle, but do not cause as much damage as the permanent dyes. Semi-permanent methods are used for disguising grey hair, or for lending a richer colour to dull hair.
One of the most important aspects of beauty is to be aware of the damage caused by chemical ingredients. Avoid treatments that mar the natural beauty of the skin and hair. The choice is yours.