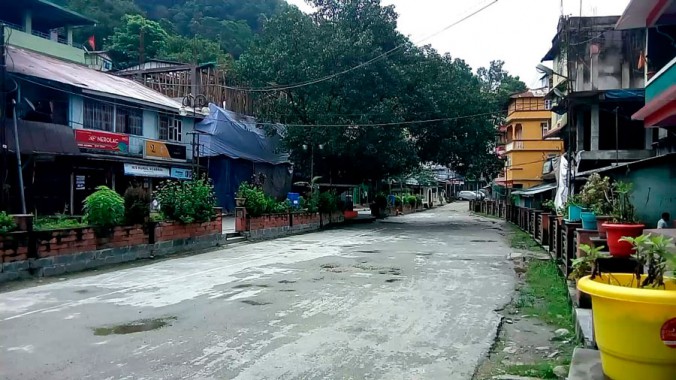 Monday, Aug 03, 2020 13:00 [IST]
Last Update: Monday, Aug 03, 2020 07:03 [IST]
Containment order lifted from Rhenock bazaar
Corona cases on decline, eight new positive cases
Staff Reporter
GANGTOK: Coronavirus infections in Sikkim is on a daily decline with only eight positive cases reported from the 537 samples tested on Saturday. Seven of them are from east district while one is from Majhigaon in south district, as per Health director general-cum-secretary Dr. Pempa T. Bhutia.
The State's active Covid cases tally is now 368.
In his Sunday health bulletin, Dr. Pempa informed that the lone Covid-19 positive case of South Sikkim was a 34-year-old female from Majhigaon near Jorethang. Her husband had tested positive some days ago and she was also found Covid-19 positive during the RT-PCR tests yesterday.
In east district, four workers of Indichem pharma unit based in Kumrek near Rangpo have tested positive. Recently, one worker of the unit had been found infected with coronavirus and testing of his contacts resulted in four more positive cases.
Dr. Pempa informed that the Health team has collected samples of 24 more contacts of the pharma cases for RT-PCR testing.
One man and his granddaughter at Majhigaon, Rangpo were detected with Covid-19 during the rapid antigen testing of the contacts of the previous positive cases. Both are also displaying some Covid-19 symptoms.
The eighth positive case is a Homeguard of IBM area, Rangpo.
Dr. Pempa informed that the Homeguard had recently caught hold of a drunk who later tested positive for Covid-19. The Homeguard went for a quarantine of seven days and tests yesterday found him Covid-19 positive.
Meanwhile, Rhenock bazaar, east district has been de-notified as a containment zone. The east district administration announced the decision on Sunday as there was no detection of any Covid positive case from Rhenock since past 15 days. All primary and secondary contacts along with other suspected cases have been tested.
Rongli has also not reported any Covid cases since last week but it will be kept under close watch for one more week, said the east district authorities.
Both Rhenock and Rongli bazaars had been put under containment since second week of July after multiple cases of Covid-19 among the local populace.
So far, 289 persons have been discharged from hospitals and Covid care centres in Sikkim after successfully overcoming coronavirus.