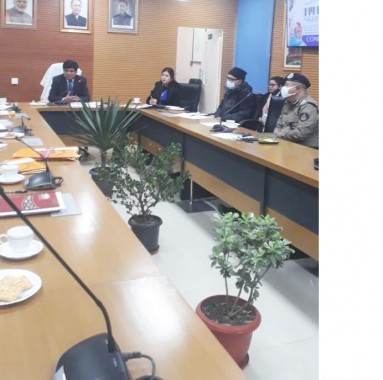 Saturday, Feb 27, 2021 07:45 [IST]
Last Update: Saturday, Feb 27, 2021 02:16 [IST]
Coordination meet for Sikkim Global Film Festival
GANGTOK,(IPR): A coordination meeting regarding the Sikkim Global Film Festival 2021 was held at the conference hall, Tashiling Secretariat today.
The meeting was chaired by chief secretary S.C Gupta and also had the presence of advisor, IPR department, Birendra Tamling, chairperson, Sikkim Film Promotion Board, Pooja Sharma, secretary, IPR department, Siphorah Targain, director, IPR department, Benu Gurung, joint director, IPR department, Bishal Khawas along with senior officers from all line departments.
The meeting was primarily conducted to discuss agendas and action plan for the forthcoming Sikkim Global Film Festival 2021 to be organised by Sikkim Film Promotion Board under IPR department during the month of April 2021.
Various agendas including the date for programme, venue, budget provision including nomination of Sikkim Film Promotion Board members and future actions to be taken were vitally discussed during the meeting.
Also, Sikkim Film Policy, terms of reference of SFPB and other important issues related to prevailing Covid-19 situation were discussed at length.