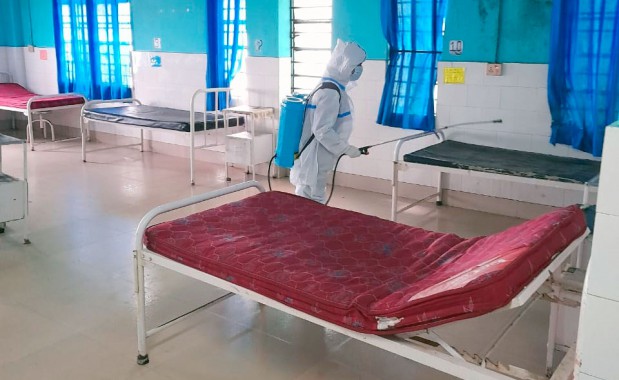 Friday, Jul 31, 2020 12:15 [IST]
Last Update: Friday, Jul 31, 2020 06:45 [IST]
Covid positive case brings Namchi hospital under partial containment, one West GPU sealed
SE Bureau
GANGTOK: A discharged patient from other ailments tested Covid-19 positive at her home resulting in a partial sealing of Namchi hospital and containment of the entire Sangkhu Radu-Khandu GPU under Dentam subdivision in West Sikkim on Thursday.
The 17-year-old girl from the GPU had been admitted at Namchi hospital on July 23 with some health problems. She was discharged after treatment on July 26 and was under home quarantine. Her rapid antigen test today morning came positive for coronavirus.
Following this, the west district administration declared the Sangkhu Radu-Khandu GPU as a containment zone. All movement of vehicles and persons except for essential services and medical emergencies will be stopped in the GPU. Roads connecting the GPU will be barricaded to prevent unauthorised entry and exit.
DC (west) Karma R. Bonpo informed that the girl has been brought to the Ayush centre isolation centre near Geyzing. Tracing of her primary and secondary contacts has been initiated, he said.
Similarly, the south district administration has taken preventive measures as the patient had stayed in Namchi hospital.
DC (south) Ragul K. ordered the containment of the emergency ward, medical ward and paediatric ward of Namchi hospital along with the x-ray and CT scan sections.
As per the order, all members of the three wards are to stay separately in the quarantine centre. The district medical superintendent and the sanitisation inspector were directed to sanitize and seal the containment area. The three wards will be reopened only after 72 hours.
Contacts of the Covid-19 patient would be traced and tested.
Health director general-cum-secretary Dr. Pempa T. Bhutia informed that the girl had in past undergone a head surgery. Since she has a co-morbidity condition, she will be brought to Gangtok from Geyzing and admitted at the STNM hospital tomorrow as per the guidelines, he said.