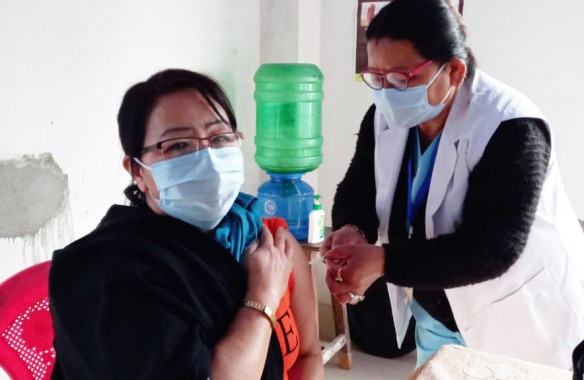 Wednesday, Jan 20, 2021 07:45 [IST]
Last Update: Wednesday, Jan 20, 2021 02:14 [IST]
Covid vaccine drive in Namchi hospital for South health workers
NAMO DIXIT
NAMCHI, : Eighty-five healthcare workers of south district received the first dose of Covid vaccine on Tuesday at south district hospital, Namchi. They included doctors, nurses, hospital staff, paramedics, ASHA workers and Anganwadi workers.
South zilla adyakshya Tshering Dem Bhutia, SKM Namchi-Singhithang in-charge Ganesh Rai and DC (south) M. Bharani Kumar witnessed the Covid vaccination launch for the district.
Dr. Roshan Poudyal, paediatrician, Namchi hospital, was the first person to get the Covid vaccine shot in south district.
"Government, researchers and scientists have come up with this vaccine to prevent the dreaded disease. All of us should be encouraged and be ready to take this vaccine as enough trial has been done. I took this vaccination and I am feeling well. I encourage everyone to come with positive vibes so we can overcome this pandemic together," said Dr. Poudyal.
Before the vaccination was conducted, a short session was done by Dr. Junita Yonzone for the 100 registered persons for the vaccine. She briefed them about the vaccination process including the observation room where the vaccinated persons would be observed for thirty minutes. The record of registered medical staffs and their vaccination process will be uploaded in Co-WIN portal, an online database for the programme, she added.
The health officials informed that a hundred more registered beneficiaries will receive the vaccination on January 20.
Addressing, the gathering (DMS) Dr. S.N. Adhikari spoke about the importance of this vaccine and informed that together with the masses and with required precautionary measures, Covid can be defeated. He also briefed about the dos and don'ts that people need to follow after taking the vaccination.
The team at the vaccination room had senior ANM Durga Deni Gurung, multi-purpose health worker (MPHW) Hissey D Sherpa and ANM Aruna Rai while the observation room had DHEOs Tenzing Chettri and Sanjay Rai. The waiting room had PHNO Bijay Laxmi Rai and Jayanti Sharma.
A representative from the World Health Organization (WHO), Dr. Hiral Raval from Consultant Health Emergencies, New Delhi was present to monitor the vaccination programme in the venue today.