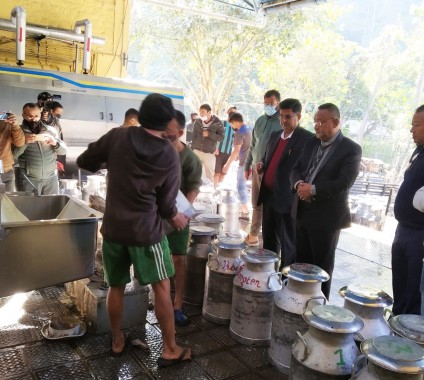 Monday, Dec 06, 2021 07:15 [IST]
Last Update: Monday, Dec 06, 2021 01:40 [IST]
Dairy incentive sees rise in milk collection
NAMCHI, (IPR): Animal Husbandry & Veterinary Services minister Lok Nath Sharma visited livestock farm at Karfectar and the regional Sikkim Milk Union plant at Jorethang today.
During the visit, the minister interacted with the officers stationed at the farm and milk plant. He took a detailed report of the field activities and looked into the current status of Mother Dairy Farm along with various other activities undertaken by livestock farm at karfectar.
The minister also surveyed the fodder fields and nursery wherein he was informed that around 50 lakh fodder cuttings and saplings were distributed from the farm to the common public free of cost during the period of 2020-2021.
After carrying out the inspection, Sharma directed the officials to put up a proposal for the upgradation of dairy plant at the earliest.
During the visit, Sikkim Milk Union deputy general manager Dr. N.K. Pradhan informed that the quantity of the milk collection at the centre has gone up to 35,000 from 15,000 litres per day, after the declaration of financial incentives of Rs. 8 per litre of milk by the State government. In view of sharp increase in the production and collection of milk, the centre is in dire need of additional plant to bear the increasing strength.
Minister Sharma was accompanied by Dr. Phurba Lepcha, deputy director, Karfectar Farm, Dr. Siddhant Pradhan, VO, Karfectar and others.