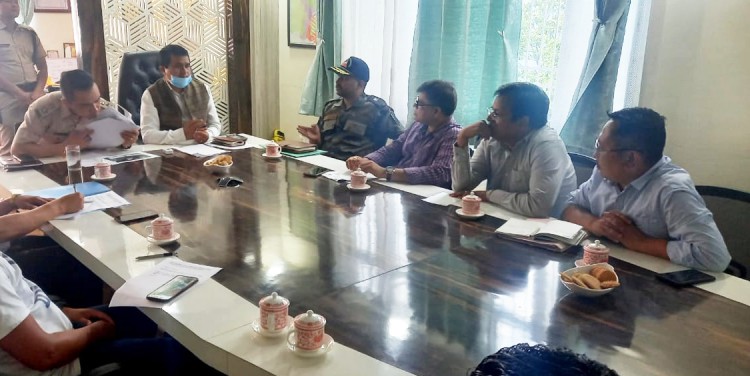 Wednesday, May 25, 2022 07:00 [IST]
Last Update: Wednesday, May 25, 2022 01:20 [IST]
DC directs for immediate restoration of Dikchu road
GANGTOK,: Mangan DC A.B. Karki on Tuesday chaired a meeting with officials concerned for immediate restoration of the Dikchu Nayabazaar stretch of Singtam-Mangan highway near the GREF camp.
The meeting was attended by Mangan SP Tshering Namgyal, 87 RCC officer commandant Yashavi Srivastava, NHPC Teesta-V general manager C.R. Das, Kabi SDM Prem Gurung, panchayats and affected public of Dikchu Nayabazaar.
Discussions took place for immediate repair of the road at Dikchu Bridge and GREF camp.
The DC asked about the status of the NHPC and BRO for the repairing and the strengthening of the road.
On this, the GREF officer said that the repairing of road at GREF camp has started today with the shifting of materials as the existing camp will be dismantled for road widening.
Regarding the restoration of the road at Dikchu Bridge, the commandant mentioned that unless the level of the dam reservoir water is not brought down, the restoration work is not possible.
The GREF had stopped the restoration work earlier this February claiming that the protective work by NHPC was weak.
On this, the DC directed to conduct a joint survey among NHPC and GREF to sort out problems in order to start the work immediately.
The Mangan SP added that there should not be a red tapeism from NHPC in delaying the work and restoration work should start immediately.
Addressing the issue of Nayabazaar residents, the DC had given seven days' time to NHPC to decide either for acquisition or permanent protection. The residents of Nayabazaar are complaining that their houses have developed cracks and rendered unsafe due to the Teesta-V hydel power project dam reservoir.