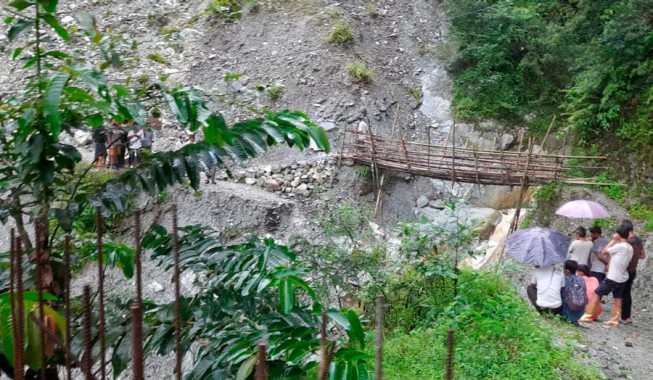 Friday, Jul 31, 2020 13:00 [IST]
Last Update: Friday, Jul 31, 2020 07:20 [IST]
Delayed bridge construction blamed for casualty in West
KUSH HANG LEEWANG
GEYZING: A 60-year-old man lost his life when he accidentally fell into a streamlet from a makeshift bamboo bridge constructed over Pheng Khola, near Tinkateyria ward under Chingthang GPU of Geyzing-Bermiok constituency in West Sikkim.
The tragic accident took place on Wednesday evening when the Tinkateyria resident, Bhim Raj Subba, was returning home from work.
It may be mentioned here that due to lack of a permanent bridge, the locals have constructed a temporary bamboo bridge as a 'cross over' medium to access the rural areas cut-off by Pheng Khola.
The temporary bridge laid on steep terrain having no concrete protective railings poses greater risk of life for locals who utilize the bridge as an access point to reach out to the areas around Pheng Khola.
Locals informed that a project for construction of a permanent bridge over Pheng Khola had been sanctioned but even when several years have elapsed, the construction work was still pending after initial start.
"Construction of bridge is pending since several years. The project is at a complete shutdown after an initial start. The contractor and the concerned department should be answerable. It is due to their failure to complete the bridge construction work, a human casualty has taken place," a local said.
Last year also, a person had lost his life at the same spot.
The villagers opined that if a permanent bridge was constructed over Pheng Khola on time, the human casualty could have been averted. They expressed that lack of a proper bridge creates lot of problems for the villagers during rainy season.
Crossing a makeshift bamboo bridge that gets slippery during rainy season becomes a threat, a villager said.
The locals have expressed their resentment over delayed bridge construction project and they have held the contractor and the concerned department responsible for delay being happened in public welfare initiative.
"Incomplete bridge construction project reflects the sheer negligence on the part of the contractor and the concerned department. The bridge construction work is still pending even when the tender of the project was done several years ago," they said.
The villagers have appealed the concerned department to re-start the bridge construction work immediately.