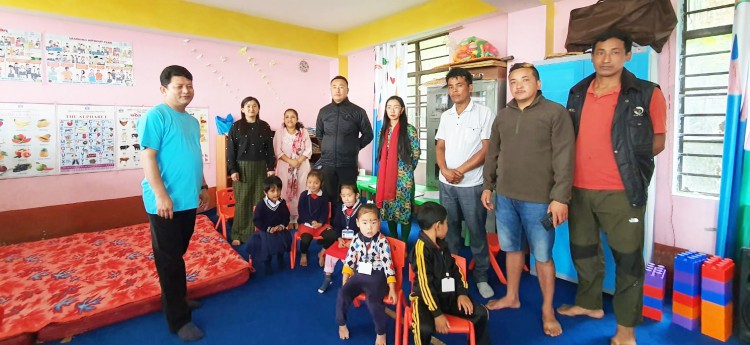 Tuesday, May 24, 2022 07:30 [IST]
Last Update: Tuesday, May 24, 2022 01:59 [IST]
District officials adopt Soreng schools under 'administration at doorsteps' initiative
GANGTOK,: Soreng DC Bhim Thatal on Saturday visited the Singling JHS, Soreng where he inspected the school infrastructure and interacted with the teachers, non-teaching staff and SMC members.
A press release informs that the Soreng DC has adopted the Singling JHS and has assured his full support for the betterment and development of the school.
During the visit, Thatal advised that school has facilities, and the onus is on the teachers to make better use of available facilities/infrastructure to impart quality education. In the present context of most of the parents and students preferring private schools, he urged upon the SMCs and school faculty members to ensure better facilities to students to make government school their preferred choice. He also stressed upon the need to ensure quality teaching learning to make students join government schools, the release mentions.
School headmaster Man Deep Subba shared a brief report on the performance and achievements of Singling JHS. He also shared the needs and requirements of the school with the DC.
The DC appreciated the efforts of the SMC to collect Rs. 1.5 lakh which they have invested in constructing fencing wall around the school. He sanctioned renovation of MDM kitchen and repair of school hall.
The Soreng district administration has conceptualized and initiated Aanganma Prashaasan, an approachable format of reaching out to the public under the doorstep governance initiative of the government. Adopting schools by the officers is one of the components of this initiative, the release informs.
The initiative of adopting schools by the officers of Soreng dstrict aims at involving in all-round development of the schools in academic and school environmental sectors. All the magistrates and BDOs of Soreng districts have adopted schools and, in this context, the BDOs and SDMs are conducting visits to the schools adopted by them.
The Collectorate of Soreng will very soon notify the guidelines for adoption of schools by the officers of the district, it was informed.
Thatal has also directed the heads of all departments to visit schools and spend at least one day at a school so that the students and teachers are informed about the functioning, programmes and schemes of public benefits of their departments. This will help the students and teachers to know about what a particular department does under it allocated business and how departments function and perform, the release mentions.