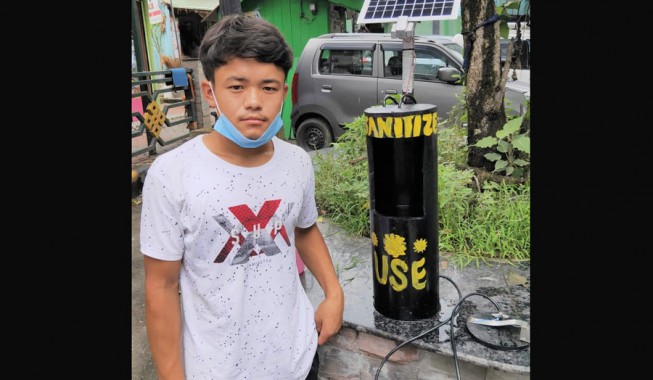 Wednesday, Jul 08, 2020 12:15 [IST]
Last Update: Wednesday, Jul 08, 2020 06:44 [IST]
Duga student develops sanitizer machine
SANJAY AGARWAL
RANGPO: Iksha Hang Limboo, a class 10 student of Duga secondary school near here has developed a foot-operated sanitization machine amid safety concerns in the wake of Covid-19 pandemic.
Limboo has used his innovative skills to develop the machine using plastic pipes, solar panels, switches and other accessories worth Rs.1,500. He demonstrated the prototype of the machine at Rangpo town today and expressed that a bigger machine can also be made if required. I wanted to make it easier to use sanitizer in the larger public interest, he said.
Appreciating the innovation and efficacy after the installation of the machine at Rangpo town, local taxi drivers association president Gangaram Bhattarai said the machine has become crucial especially when a case of a driver testing positive for coronavirus has been reported.
Bhattarai had visited Iksha Hang's house and discussed on installing the machine in the town. He also appealed to the drivers to use the machine to sanitise their foot along with the passengers.
Earlier in January, Iksha Hang had represented the State in the science exhibition at Kolkata.