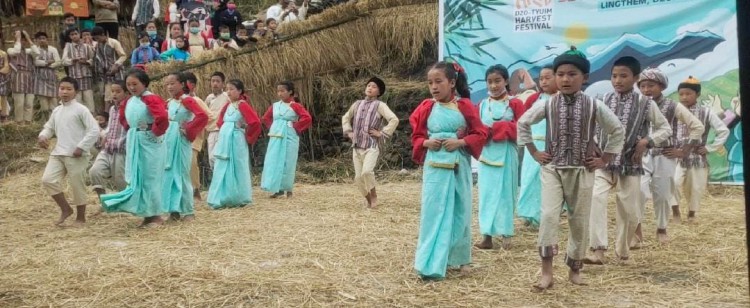 Sunday, Nov 14, 2021 08:15 [IST]
Last Update: Sunday, Nov 14, 2021 02:33 [IST]
'Dzo-Tyuim' harvest festival underway in Dzongu
DICHEN ONGMU
GANGTOK,: The "zero-waste" 'Dzo-Tyuim' harvest festival started Friday at Lingthem village in Dzongu, North Sikkim.
The three-day-long festival organised by Dzongu locals in association with Forest department and Homestay Association of Sikkim (HAS) has indigenous food, cultural programmes, storytelling sessions along with and other activities.
"The concept of homestay eco-tourism was unexplored in Dzongu. Just few households were involved in this business so with an aim to engage our locals in mass number we came up with the idea of this festival," informed an organising member.
On the first day, the festival had traditional games for the youth and kids followed by storytelling sessions and folk performances.
On the second day, the main event of harvest "Dzo tyuim dance" was performed by the villagers where the visitors witnessed the complete harvesting process from cutting and collecting of paddy stalk, threshing and collecting of rice grains, pounding of paddy and separation of paddy grains from the husk.
The final day of the festival will witness a special unplugged session by renowned Lepcha band 'Sofiyum' and other local artists from Dzongu.