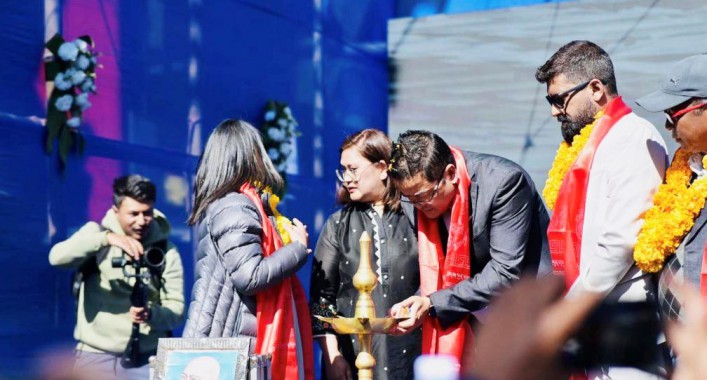 Monday, Nov 28, 2022 08:30 [IST]
Last Update: Monday, Nov 28, 2022 02:53 [IST]
Edwards slams BGPM, raises Gorkhaland demand
DARJEELING,: Hamro Party (HP) president Ajoy Edwards on Sunday raked up the demand of Gorkhaland while maintaining that it was the main reason that their party had been formed.
Edwards was speaking at a programme here at Darjeeling Motor Stand held to mark the 1st foundation day of Hamro Party which was on November 25.
Quoting the party's constitution, the Hamro Party president said, "The main reason that our party was born is for the formation of Gorkhaland within the Indian Union through non-violent means. Our party's main goal is division from Bengal. A separate State has been our number 1 objective."
Edwards maintained that they would move forward with the demand of PPS, UT or separate State without making any saheeds or fighting.
"I would like to tell the family of the saheeds that we have not forgotten their sacrifices. We are serious about this issue. The political 'dalals' (brokers) have bowed down the heads of the Gorkhas with shame and we were born to uplift it," he said.
"I am speaking about Gorkhaland not to make youngsters again walk in the path of agitation or displace them. Be it Gorkhaland or Statehood or a system in the constitution which cannot be run by the agents of Bengal a person is needed who has power over himself and is also ready to go to jail. That person should be me as I will not run away as I am ready to sacrifice my life even by sitting in a hunger strike. This should not be the youngsters who do this or anyone else," said
Edwards.
Most of his speech was focused on slamming Bharatiya Gorkha Prajatantrik Morcha (BGPM) president Anit Thapa over the recent political development in which five Darjeeling Municipality ward councillors of Hamro Party defected to the BGPM threatening their majority in the civic body.
"I want to introduce Sujata Shankar who is a lone mother and has a 7-year-old child. She is a hero as that day when Anit's party called her and offered facilities to her she did not accept. Those kinds of facilities can never be got sitting in this party in her lifetime. She made this choice for Darjeeling and her family. She refused to give in to the greed and the money," said Edwards while introducing her, maintaining that all should know about her sacrifice.
Taunting the BGPM for allegedly giving flats and cash to the Municipality councillors for joining them, Edwards maintained that Sujata too needed a flat at Siliguri, but he could never give her that while also garlanding her.
"Our generation should not be bought. I know that those who joined them, their spirit is not with them, I want to tell them to come back as there is honour and prestige in our flag. This flag will build the community here," he said.
The Hamro Party president maintained that the main reason that they contested in the GTA election was as they did not want "dhakus' (dacoits) to sit there.
Edwards added that people had made them the second largest party and a strong opposition who could take the people's voice forward.
"This did not sit well with 'Chipley Dai' (Anit Thapa) and he started doing calculations. I want to tell him that instead of hunting for leaders, he should do the work he has been sent for in the GTA. He does not sit there at Lalkothi for once. The more you collect leaders we will gather the love of the people," Edwards said while also alleging that Thapa was an agent of the Bengal government.
Edwards said that Hamro Party believed in democracy and contested the elections, but it was under the direction of the State government that the people's choices were being bought.
"What should we do now? If we take part in elections, you will buy them off. The only alternative to this is that we should unite and take out these kinds of people, who are against our community, from the hills. I am not talking about any individuals but of this kind of thought and practice," said the Hamro Party president while also hinting to work together with GNLF leader Mann Ghisingh with whom he had a fallout in the past.
He added that Gorkha Janmukti Morcha leader Bimal Gurung should also unite against this type of mentality which was against the people. He also requested TMC leader Binay Tamang also to come forward.