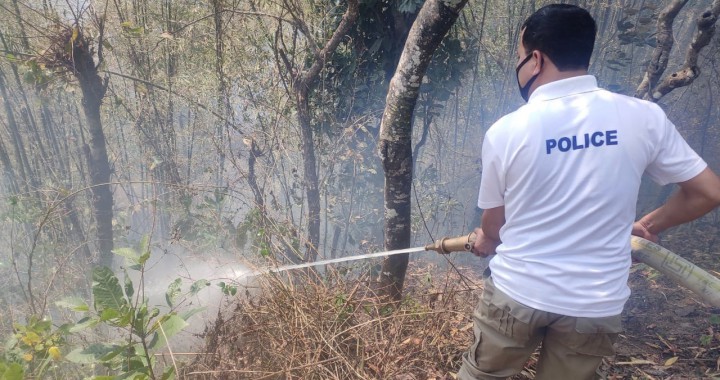 Thursday, Apr 08, 2021 08:15 [IST]
Last Update: Thursday, Apr 08, 2021 02:37 [IST]
Effort on to contain forest fires in South Sikkim
NAMO DIXIT
NAMCHI,: The bush fire which broke out recently in Namthang area of South Sikkim has spread to adjacent places and fire personnel and public alike are actively engaged in controlling the fire and preventing further damages.
Namchi Fire station along with other stations across Sikkim is working tirelessly since more than a week to reach the spots where the fire is active. They are receiving on average four to five calls per day. On Tuesday, the fire stations of Namchi, Rabongla and Rangpo in coordination with the district administration, Police, Fire personnel and local volunteers controlled a major forest fire at Nagi Namthang after almost six hours and saved one of the oldest monasteries located nearby.
Thought the fire has been contained, a fire tender and a team is still stationed at Nagi as a precautionary measure.
On the same day, Namchi Fire department attended more than 14 calls from different locations.
It took six hours to protect Nor Choeling gumpa which is one of the oldest monasteries. The monastery has a total area of nine acres and out of them seven acres has been damaged in fire. Officials from Ecclesiastical department and concerned Block Development Officer visited the area to take stock of the situation.
District Collector (South) M. Bharani Kumar informed that places like Donak, Mamring, Tingley, Kateng Pamphok and Nagi have reported forest fires for last few days. Two milch cows were also burnt by fire at Donak ward. About 40 hectares of area at Nagi including forest area has been affected and seven acres of land belonging to Nagi Gumpa has been damaged.
He further informed that the water supply pipelines for Mamring, Tingley, Kateng and Nagi have also been damaged.
The fire first broke out at Setikhola and gradually spread towards Palitam and reached Nagi on Tuesday.
The local people and volunteers are putting their effort to contain the spread of fire. On the other side, the firefighters were engaged for entire day today to control the fire spread in surrounding areas.