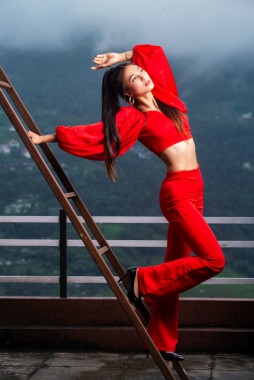 Friday, Aug 27, 2021 06:30 [IST]
Last Update: Friday, Aug 27, 2021 00:51 [IST]
EKSHA KERUNG | MTV Supermodel Finalist
ISABELLA GURUNG
A TGIF! FEATURE
GANGTOK,: The season 1 of MTV Supermodel of the Year saw Sikkim's Manila Pradhan emerge winner and Sikkim, once again, has high hopes from Eksha Kerung (Subba) who has joined the second season of the Indian reality television series.
The first episode of MTV Supermodel of the Year Season 2 premiered on August 22 and Sikkimese beauty pageant contestant-turned-cop Eksha Kerung managed to impress the judges – Bollywood diva Malaika Arora, actor/supermodel Milind Soman and actress/VJ Anusha Dandekar.
With the theme 'Unapologetically You', the second season has 15 contestants from different States compete for the title of MTV Supermodel of the Year.
Born to parents Aitaraj Subba and Sukrani Subba, Eksha was born and brought up in Rumbuk, Sombaria in West Sikkim. The 22-year-old is an alumnus of Sunrise Academy, Sombaria and Sombaria senior secondary school. While pursuing her graduation from Nar Bahadur Bhandari Degree College, Tadong, she got recruited in Sikkim Police in 2019.
She was among the top 10 finalists at Positude Miss Sikkim 2018.
Apart from being a former beauty pageant contestant and a cop by profession, Eksha loves bike riding, shopping and dancing.
In an exclusive interview with TGIF!, Eksha Kerung shares her MTV Supermodel of the Year journey.
How did your MTV Supermodel of the Year journey begin?
EKSHA: I wanted to be part of MTV Supermodel of the Year since the first when Manila Pradhan made the State proud by winning the title in 2019. I auditioned for the competition in February virtually. We were asked to upload an introductory video on the Voot app. In the video, I had put on my Sikkim Police uniform. After two days, the producers of the show called me saying that they loved my video. I was the first one to get shortlisted, but I wasn't supposed to tell anyone at that moment.
Due to the Covid pandemic, everything stopped for a while. Around June-July, we were called to Mumbai for the show. The shoot started the next day itself.
Was the competition tough?
EKSHA: All the contestants were professional models and some were already part of top modelling agencies like Times Talent; some have walked in Lakme Fashion Week and some have worked with Bollywood stars. All of them were so focused and passionate about modelling. I was the only one who hasn't has a professional career in modelling. I come from a different background and I was only one of the contestants of Miss Sikkim and I had a long way to go compared to other contestants. I feel proud because this is probably the first time that someone from a defence background has participated in such mega platform.
There were 15 contestants, including two from the Northeast (Sikkim and Arunachal Pradesh). Altogether there were three Nepali-speaking contestants including one from Kathmandu. With three Nepali-speaking contestants this time, the competition was tougher among the three of us, as all of us knew that only one among us would be preferred in the competition. That was quite scary for all of us. The three of us became close friends though.
The competition felt tough and adventurous at the same time.
Challenges faced
EKSHA: Coming from the Northeast, I had to work on my Hindi first. At first, it was difficult to express myself and communicate in Hindi, but eventually I learnt it. I think my Hindi has improved a lot now.
I also had to work on my expression and other things a model need to stay in the competition.
The series was shot for around 18-20 days in Mumbai and I have to say that I had never worn so much makeup before. I suffered from rashes too (laughs).
I have to say that, being from a defence background where I had to train for around 14 months before being recruited by Sikkim Police, some of the challenges were very easy for me. I wasn't scared of heights and I could do the tasks that involve physical strength easily. I was confident when the tasks involved core strengths.
Yes, I wasn't sure about my expressions and posture at first but I was focused all the time and it was easier for me to polish my flaws. I was mentally prepared for the challenge.
Since Manila Pradhan won the title in the first season of MTV Supermodel of the Year, she created a benchmark for everyone in Sikkim and people expect me to be the next Supermodel of the Year. Even the judges were expecting a lot from me because Manila had set the bar high. All I have to say is that I have given my 100 per cent and I have tried my best. It is too soon to reveal the full details now, as we are under contract.
Inspiration
EKSHA: I take inspiration from my father. I also see myself as an inspiration because whatever I am doing now is my decision and my dad supports all the decisions I make. He was very supportive when my ambition was fluctuating at some point.
Support from family, friends and Sikkim Police
EKSHA: My family and friends have been very supportive throughout, especially my parents. They were very happy to see me on national TV channel. The Sikkim Police was also very supportive in every aspect. I didn't have any trouble asking for leave to go to Mumbai for the shoot.
I would also thank MP Indra Hang Subba, minister MN Sherpa, SIKKIM EXPRESS, Chitiz Rai, Nosang Limboo and Sukhim Yakthung Sapsok Songchumbho for all the support.
What next?
EKSHA: I am hoping to participate in Asia Next Top Model next. I would love to do modelling while working in Sikkim Police.