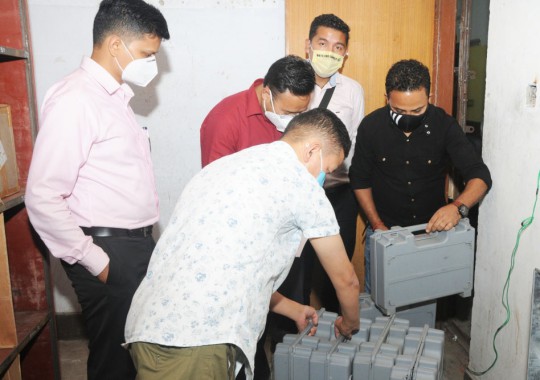 Tuesday, Sep 14, 2021 09:00 [IST]
Last Update: Tuesday, Sep 14, 2021 03:25 [IST]
EVM commissioning for Arithang-II by-poll
GANGTOK, (IPR): The commissioning of Electronic Voting Machines (EVMs) including reserved EVMs to be used for the upcoming by-election of Arithang II municipal ward of Gangtok Municipal Corporation was held at the Conference Hall of District Administrative Centre, East today.
All the polled EVMs of the previous Municipal elections were sent to State Election Commission and fifteen sets of new machines were brought to District Administrative Centre for commissioning and training purpose.
Accordingly, the Strong Room was opened at 2:15 pm in the presence of contesting candidates and their election agents.
The commissioning was conducted under the supervision of Municipal Returning Officer (MRO) East Ragul K. in the presence of Election Observer Tshewang Gyachho and ADC East Tushar G. Nikhare.
An Engineer from Electronic Corporation of India Limited (ECIL) was present to supervise and assist the commissioning process of the EVMs.
After the commissioning process, the EVMs were stored and sealed in the Strong Room located at District Administrative Centre, East and is guarded by Sikkim Armed Police and under 24x7 CCTV surveillance.
It may be mentioned that there will be three Polling Stations and the date for the poll is scheduled on September 17.
The polling parties will be despatched to Polling Stations on September 16 at 2 pm.