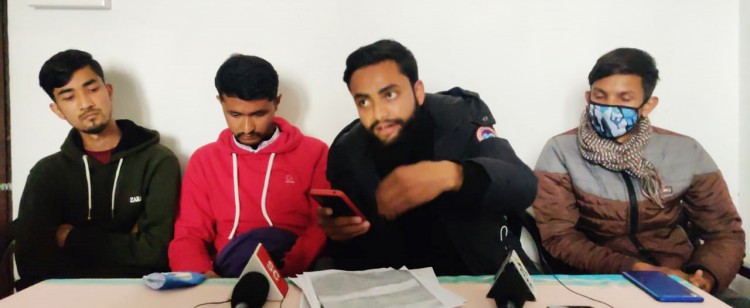 Friday, Feb 26, 2021 07:45 [IST]
Last Update: Friday, Feb 26, 2021 02:05 [IST]
Expelled students appeal authorities to revoke expulsion order
KUNAL RAI
GANGTOK,: The four students expelled by Geyzing Government College have appealed the State government and college administration to revoke the rustication order issued against them.
Pravin Sharma, Praveen Basnet, Lok Nath Chettri and Nakul Sharma had been expelled from the college on February 19 for alleged repeated breach of rules and regulations of the institution. They were part of a 30-member group of students that had camped at Education department, Tasliding Secretariat over the college campus construction issues.
Speaking to media here, the four students said they were exploring legal help if their expulsion, unjustified in their view, is not withdrawn by the college administration.
"Our friends in the college are in protest demanding that we are reinstated. The expulsion order was issued without any explanation by the college administration. The college authorities are unable to give the actual reason for our rustication," said the four students.
The quartet pointed out that examinations are approaching. "Exams are due to be held. Being from a middle class family, we cannot do much. We appeal the government and authorities concerned to revoke our expulsion and reinstate us to the college," they said.
They maintained that it was within their democratic right to ask questions to authorities concerned regarding the college. It is also our right to demand for good infrastructure to pursue quality education, they said. They also sought support from students from the State and country.
We all are students and our primary aim is to get quality education with good infrastructure, said the four students.