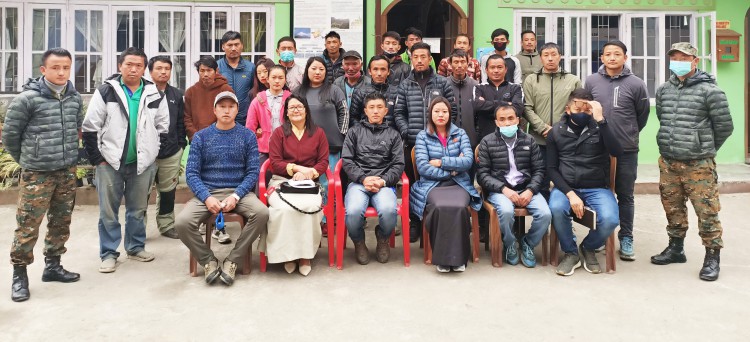 Monday, Nov 22, 2021 07:15 [IST]
Last Update: Monday, Nov 22, 2021 01:36 [IST]
Financial assistance provided for maintenance of Goechela trekking route
PRITAM LAMA
YUKSAM,: The tourism stakeholders of Yuksam, who rely on Dzongri-Goechala trek, were provided financial assistance by State Tourism department, Khangchendzonga National park (KNP) division of Forest department and Travel Agents Association of Sikkim (TAAS) for the maintenance of the trekking route which was damaged by monsoon rain this year.
The popular Dzongri-Goechala trekking route which falls within the Khangchendzonga National Park was closed at multiple places due to the landslides and the local tourism stakeholders had approached the Tourism department, KNP division and TAAS for the assistance.
In response, the Tourism department, KNP and TAAS collectively provided financial assistance to the Ecotourism Service Providers Association of Yuksam (ESPAY) for maintenance of trekking route and rescue operation.
The financial assistance was handed over through the hands of SKM constituency-level tourism secretary Phumpi Bhutia today.
The KNP also conducted a brief meeting with the local tourism stakeholders on the occasion.
KNP range officer Tenzing W. Bhutia appealed pack animal operators and stakeholders for cooperation and support to keep the national park clean and safe.He also asked the stakeholders including trekking guides and porters to be responsible while rendering tourism services inside the Khangchendzonga National Park.
The meeting also discussed how the tourism-related services could be improved in the area.