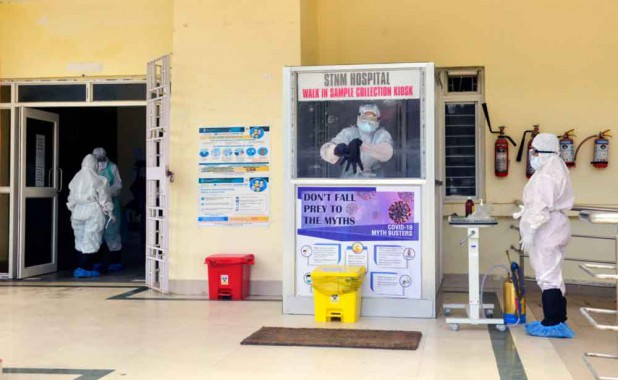 Monday, Jul 06, 2020 13:00 [IST]
Last Update: Monday, Jul 06, 2020 07:32 [IST]
First frontliner in Sikkim to be infected with Covid
22 fresh Covid cases in Sikkim
20 SSB jawans from Rhenocktests Covid positive
Staff Reporter
GANGTOK: Sikkim registered 22 new Covid-19 positive cases on Saturday, a spike in the numbers after some weeks of a declining graph. Among them, 20 are SSB personnel posted in Rhenock, east district where one SSB jawan had previously tested coronavirus positive.
All the 22 patients have been shifted to the isolation ward of the designated Covid-19 treatment centre in STNM hospital, Gangtok.
Sikkim now has 51 active cases of Covid-19 while 61 patients have been discharged so far after successful recovery.
In his health bulletin on Sunday evening, Health director general-cum-secretary Dr. Pempa T. Bhutia informed that a SSB jawan from the SSB Rhenock camp had tested Covid-19 positive recently. Accordingly, contact tracing was done and samples from 64 SSB personnel at Rhenock were done. Results which came yesterday showed that 20 were Covid-19 positive, he said.
A taxi driver tasked to ferry the returnees to the quarantine centres from the screening centre has also tested positive for coronavirus. He is probably the first frontliner in the State to be infected with Covid-19 while performing his duties.
"The taxi driver used to transport people to the quarantine centre. His sample also came positive yesterday. Contact tracing is going on. His wife and child have been isolated and kept in quarantine," said Dr. Pempa.
Regarding the Rhenock SSB case, Dr. Pempa said the authorities have contained the particular area. All the contacts (of the infected persons) are in containment and there is no fear of community spread, he said.
The 22nd Covid-19 positive result which came yesterday was of a Delhi returnee who was staying in a paid quarantine facility. He had given his swabs for testing while in Delhi and the results of him being positive was communicated yesterday.
Dr. Bhutia informed that there are 15 contacts of the Delhi returnee who will all be tested.