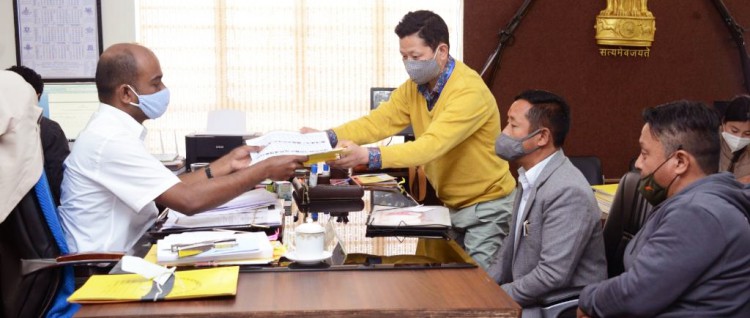 Thursday, Mar 04, 2021 07:30 [IST]
Last Update: Thursday, Mar 04, 2021 01:46 [IST]
Five more nominations for GMC wards
KUNAL RAI
GANGTOK,: Five nominations were made on Wednesday before the East Municipal Election Returning Officer at East DAC, Sichey here. All the nominations were for different wards of Gangtok Municipal Corporation (GMC).
The nomination papers were submitted by Rameshwar Tamang (Lower M.G. Marg-Lall Bazaar), Palzor Lepcha (Bojoghari), Sunita Sirohia (Upper M.G. Marg), Mohan Lall Sarda (Upper M.G. Marg) and Kishore Tamang (Burtuk).
Speaking with media, Rameshwar Tamang, 51 years, spoke on the need for a holistic development of Lall Bazaar. Cleanliness of the area and garbage management would be my priority and the ward also needs a facelift, he said.
Palzor Lepcha, 48 years, has submitted nomination for Bojoghari which is a newly added ward in GMC.
"There are several developmental activities that need to be taken up for the ward. People of the area suffer most during the rainy season as most of the rainwater flows along the road causing threat to the houses. I plan to work to improve the drainage system, water supply and other civic amenities required by our ward," said Palzor.
Sunita Sirohia, 48 years, is contesting from Upper M.G. Marg, the showpiece ward of GMC. She told media she has been engaged in social works for a long time. I want to do more for the society in an organised manner and so I am contesting from my ward, she said. I am aware about the local problems in my ward and would work to resolve them if elected, she added.