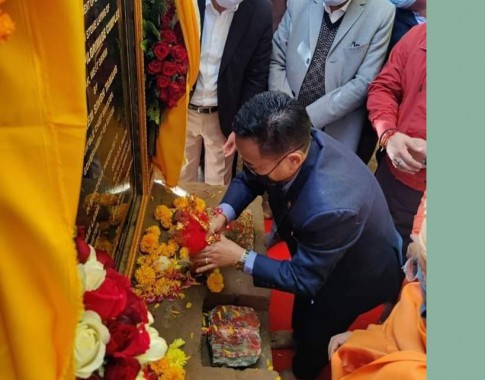 Tuesday, Dec 01, 2020 07:15 [IST]
Last Update: Tuesday, Dec 01, 2020 01:36 [IST]
Foundation stone laid for Brindaban Dham project at Dodak
KUSH HANG LEEWANG
Historic moment for West Sikkim: CM

GEYZING,: Chief Minister P.S. Golay on Monday laid the foundation stone of an eco-tourism pilgrimage complex project here at Dodak, Daramdin constituency. The complex, also known as 'Brindaban Dham', is a mega project of the State government aimed for promotion and advancement of pilgrimage tourism in West Sikkim.
Around 10.78 acres of land at Dodak have been acquired for the project to be executed by the Tourism department.
In his address, the Chief Minister said the foundation stone laying for the Brindaban Dham project was a "historic moment" for the people of West Sikkim. The project was incepted during the past SDF government's term but could not take off due to the SDF government's failure, he said. The past government promised various ambitious projects to the people of West Sikkim but never fulfilled them, he said.
We had promised to initiate the Brindaban Dham project when the SKM form the government as it was a long pending demand of the people of West Sikkim, said the Chief Minister. He informed that Brindaban Dham project was renamed as eco - tourism pilgrimage complex with an objective of promoting the complex not only as a religious centre but also as a place of pilgrimmage tourism.
The Chief Minister stressed that quality construction works should be done and the project is completed within the stipulated time. He spoke on various developmental programmes and schemes of the SKM government.
The SKM government had given topmost priority for the development of health sector and within one and half year of the government formation, the required infrastructural facilities at hospitals and health centres were made available, said Golay.
Developmental works in Sikkim got delayed due to the Covid pandemic but the State government was well prepared to work on Sikkim building mission, said the Chief Minister. As compared to other States, Sikkim served its people in a better way in the fight against coronavirus pandemic, he said extending his gratitude to health workers.
Rohit Raj Maharaj, the chairperson of the Brindaban Dham Samiti, spoke on the various aspects of the project. It is a proud moment for the people of West Sikkim that the project is finally being initiated, he said.