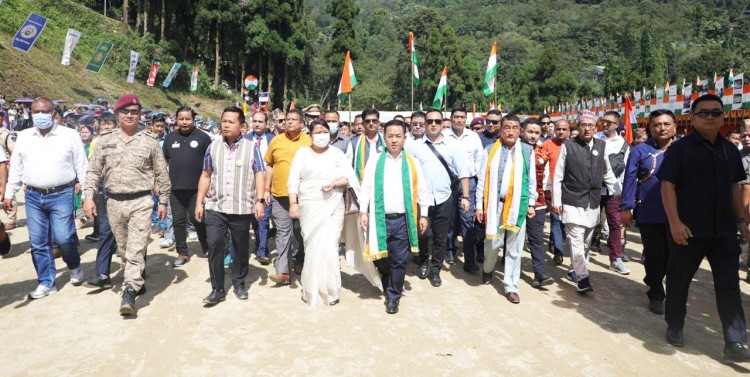 Sunday, Aug 14, 2022 08:30 [IST]
Last Update: Sunday, Aug 14, 2022 02:47 [IST]
Foundation stone laid for multi-purpose community hall at Soreng
KUSH HANG LEEWANG
SORENG,: Chief Minister P.S. Golay on Saturday laid a foundation stone for a multi-purpose community hall at Soreng. He was accompanied by ministers, MLAs and others.
The multi-purpose community hall being constructed at a cost of Rs. 16.73 crore at an area of around 10,397 sqft will have a 500-seating capacity. The community hall is a long pending demand of Soreng residents.
Soreng bazaar already has a multipurpose community hall with the capacity of 200 seats. However, the population growth and upgradation of Soreng as a district generated the need for another multi-purpose community hall as a public infrastructure to cater to various aspects of Soreng district and other activities.
"The newly formed district of Soreng lacked several facilities, including a community hall with modern amenities. I feel this centre will add to the development of the area and will be an asset for the people," shared the Chief Minister on his social media account.
Building & Housing secretary Kuldeep Chettri shared a technical report about the upcoming multi-purpose community hall.
The Chief Minister later attended the Independence Day football tournament being held at Soreng senior secondary school ground as the chief guest.
During the brief function, financial assistance were provided through the Chief Minister's Fund to the meritorious students, local entrepreneurs, progressive farmers, social organizations and individuals from below poverty line.
Earlier in the morning, the Chief Minister took part in a 'Tiranga Padyatra' organized under Azadi Ka Amrut Mahotsav by Soreng district administration. The walkathon was held from Soreng bazaar to Soreng senior secondary school playground.