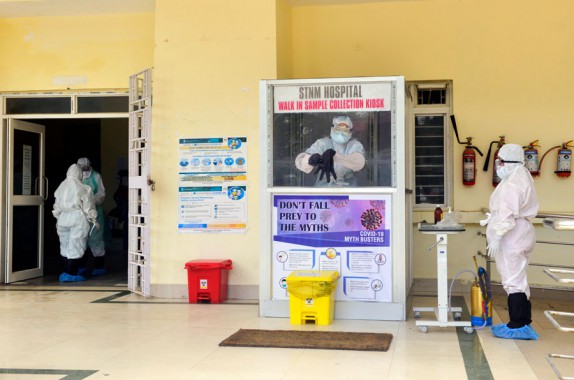 Wednesday, Jul 08, 2020 12:45 [IST]
Last Update: Wednesday, Jul 08, 2020 12:45 [IST]
Frontliner's contacts test negative
Staff Reporter
GANGTOK: All 15 contacts of the Covid-19 infected driver have tested negative for coronavirus, said Health director general-cum-secretary Dr. Pempa T Bhutia on Tuesday.
The designated driver who used to transport the returnees to quarantine centres from Rangpo screening centre had recently tested positive for coronavirus. He and other designated drivers were staying in a government-identified facility near Rangpo.
The authorities identified 15 contacts of the driver including his wife and three-year-old daughter and their samples were tested Tuesday morning at the STNM hospital viral lab.
In his health bulletin, Dr. Pempa informed the samples of all the 15 contacts have come negative. This is good news as there is no community transmission as feared by the people, he said.
Five Covid-19 patients were discharged today from STNM hospital after recovering from the contagion.
However, the 130 samples tested today yielded two positive results. One patient is 27-year-old girl and another is a 37-year-old male. Further details would be shared in tomorrow's bulletin since the results just came in, said Dr. Pempa.
He informed that the designated Covid-19 centre in STNM hospital has now 44 patients under treatment.