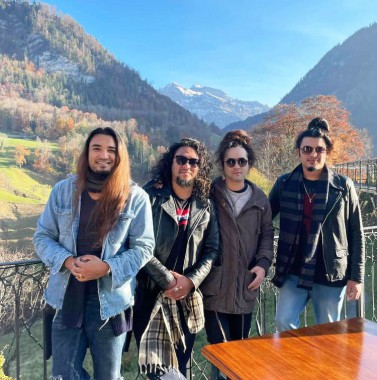 Saturday, Nov 13, 2021 07:45 [IST]
Last Update: Saturday, Nov 13, 2021 02:15 [IST]
GATC Ready to Rock Switzerland
GANGTOK,: Girish And The Chronicles (GATC), Sikkim's biggest rock export, is set to perform at 'UR Rock Music Festival' at Sarnen, Switzerland on Saturday.
The UR Rock Music Festival - from November 11 to 14 - features some of the biggest names from rock music industry including the legendary 'Nazareth'.
GATC reached Zurich on Thursday. The band is giving its first performance on Saturday. On Sunday, the Sikkim band would be sharing the stage with 'Nazareth', inform a press release.
The GATC members shared that they will give a rocking performance besides keeping up the name of India and Sikkim high among the audience. The band line-up consists of Girish Pradhan (vocals), Yogesh Pradhan (bass), Suraj Karki (lead guitars) and Nagen Mongrati (drums).
GATC is the only and first band from India to be invited for 'UR Rock Music Festival'.
The GATC was invited for the Switzerland music festival following the release of 'Rock The Highway' music album in April last year. The album under Lion's Pride music, Denmark had received a good response from the rock and metal music community globally.
The album had also been talked about by rock and metal legends Thomas Gabriel Fischer (Celtic Frost) and Glen Fricker along with online portals like Metal Injection, MetalSucks and Classic Rock Magazine. This made the band create quite some impact overseas, leading to the invitation from UR Rock music Festival, Switzerland, happening this weekend.