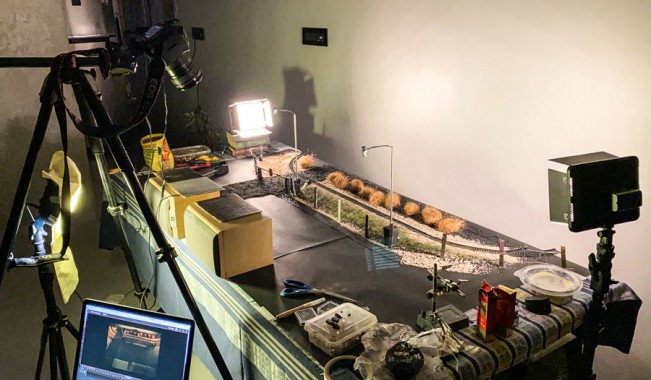 Friday, Jul 31, 2020 12:45 [IST]
Last Update: Friday, Jul 31, 2020 07:16 [IST]
Gauley Bhai release music video for title track 'Simrayo'
PANKAJ DHUNGEL
GANGTOK: It is the monsoon season and we are all in the hunt for 'Dhara Ma Umreko Simrayo'. For the uninitiated, Simrayo is watercress, but for those into Nepali music, it is a song by Gauley Bhai, a Bengaluru-based band from Kalimpong, West Bengal that has captivated the Nepali music audience across the Indian diaspora and in Nepal.
The brothers from the neighbourhood (Gauley Bhai) released their second official music video on July 27, in 'Simrayo' on YouTube. The song is the title track from their debut album 'Joro', which was released in June 2019. The stop motion video has the protagonist played by a pair of stilettos and their adventure on a night walk across town meeting other stilettos. Given the lockdown, perhaps that is one way of presenting how our past lives have been prior to the pandemic. Sounds weird, but so is there music.
The video is conceptualised and directed by Ekta Mittal, a Bangalore-based filmmaker and co-founder of Maraa, a media and arts collective. The sets and stop motion is done by Sharanya Ramesh, a stop motion and animation artist, and the miniature stilettos are built by hand by Amarjit Khalsa.
"There are two free souls, living in their own worlds, guided by free will and love. It is a provocation to the world that is afraid to let lovers be. In a society, where fear and anxiety surrounds us, we censor ourselves and don't let our impulses flow. In this video, the lovers can't be stopped; they dare to run while the mob can only witness them. There are some things beyond society's control. The video tries to stay true to the spirit of Simrayo, a wild shrub that grows under springs in Kalimpong. The song encourages the chase with relentless passion and rage," claims the band.
"It's a song about wanting and desire and doing what you love, same goes for sitting below a stream and doing your own thing, through the night. It shows reflection of desire and indulgence. Using stilettos over humans, because suddenly you are beyond ideas of gender, non-human it is still exhibiting human emotions. It is beyond gender or colour, it's an abstract. There is a quote '…that knee walks on in the absent leg, that torso, decapitated, bears an invisible head... In the little there is, lies all that was'. I guess that is what the video resonates," stated band frontman Vecheet Dhakal.
Gauley Bhai, formed in 2017, includes Veecheet Dhakal on vocal and violin, Siddhant Mani Chettri on guitar, Anudwatt Dhakal on bass, all of whom are originally from Kalimpong, and Joe Pannicker from Calicut, Kerala on drums.
This intersection of geographies and musical roots is the essence of their music. In 2019, they released their debut album 'Joro' (fever) which was received well by audiences, critics and media alike. They have played several festivals across the country, such as NH7 Weekender, Orange Festival and Ziro Festival of Music. They have also toured with playing in Delhi, Guwahati, Shillong, Hyderabad, Darjeeling and Kalimpong and Nepal before the lockdown.
They were also part of this year's edition of virtual Joon Festival, based in United Kingdom on June 21, 2020.