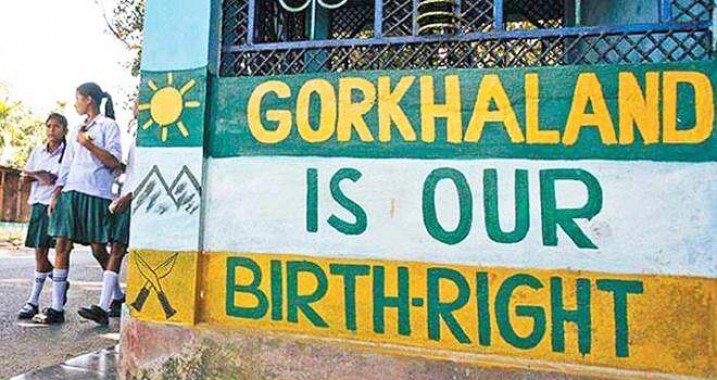 Tuesday, Apr 06, 2021 08:00 [IST]
Last Update: Tuesday, Apr 06, 2021 02:25 [IST]
Gorkhaland, not the bull's-eye this time
SUDIPTA CHANDA
SILIGURI,: The cat is out of the bag.
The Trinamool has decided to support candidates fielded by the Bimal Gurung camp in the three hill constituencies for the ongoing Assembly elections.
That is the official version so far.
Given the twists and turns one is getting to witness in these polls though, one is not too sure what happens at the penultimate moment.
So, it is wise to set aside latitude of flexibility. That way one is not in shock or awe if some surprise is sprung at the eleventh hour.
But, the declared version till now is that candidates of the Bimal Gurung camp are getting the Trinamool's support.
Where does that leave Binay Tamang and his followers? On the lurch, is the answer.
The Tamang camp has been loyal to the Trinamool-led state government ever since life returned to normal in the Darjeeling hills post the 2017 agitation.
The Tamang camp would also field its candidates for the Assembly polls. It surely had counted on the Trinamool support as reward to its loyalty.
But, that was not to be and that had become evident when buoyed by Trinamool support Bimal Gurung came out of hiding and announced to support the Trinamool in the polls.
A glaring example of the use and throw strategy and the Binay Tamang camp is at the receiving end. It is on its own now unless of course some change is effected at the last moment.
This development could open up doors for political equations to be struck anew in the Darjeeling hills. If that happens at all, it would come post poll.
The electors are therefore a confused lot. They now face a complex choice between charisma and reliability.
Of the two Gorkha Janmukti Morcha (GJM) leaders leading their respective camps, Bimal Gurung is the charismatic one, but Binay Tamang has exuded reliability.
The electors therefore will be hard pressed to choose between two sets of rival candidates who are but from the same organization. Very puzzling this!
If the current status of political competition continues, the hills would for the first time witness two camps of the same political party vie for power.
The hills are also witnessing for the first time an election minus the Gorkhaland slogan.
No election in the hills was complete without the separate state of Gorkhaland demand as central issue ever since the slogan was raised in the late 70s.
No Gorkhaland slogan this time, however.
For a change, politics in the hills has moved off on a different tangent.