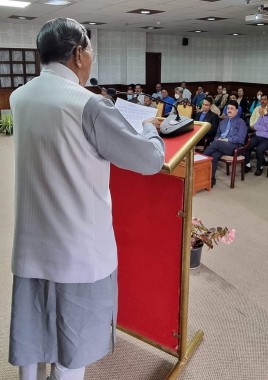 Saturday, Sep 24, 2022 08:00 [IST]
Last Update: Saturday, Sep 24, 2022 02:20 [IST]
Governor calls for collective effort to eliminate TB from India
GANGTOK, : Governor Ganga Prasad on Friday urged people of State to work collectively towards the elimination of tuberculosis from country by 2025.
He insisted that people's participation in 'TB-Mukt India' campaign can help eliminate the disease by the target year of 2025.
Addressing a programme on Pradhan Mantri TB Mukt Bharat Abhiyaan held at Raj Bhawan today, the Governor urged people to register on the Nikshay 2.0 portal (www.nikshay.in) and contribute towards achieving the goal of making India a tuberculosis-free nation, informs a Raj Bhawan release.
Any individual or organisation can register as Ni-kshay Mitra on the Ni-kshay 2.0 portal to support people affected by the disease. The initiative intends to provide essential nutritional and social support to people with TB and root out stigma and discrimination against them.
He said that it is the ultimate duty of all intellectuals to come forward for humanity and place Sikkim at the top in eradicating tuberculosis before 2025.
The programme was also attended by Health minister Dr. Mani Kumar Sharma, Health commissioner-cum-principal secretary D. Anandan, representatives from State and district health administration, district collector from all the districts, corporates and officials.
The Health minister presented the TB figure in Sikkim and called upon all the stakeholders to work unitedly towards making India a TB-free nation.
The Pradhan Mantri TB Mukt Bharat Abhiyan was launched nationwide on September 9 with the objective of completing the mission of eradicating tuberculosis from the country by 2025. The campaign aims to highlight the need for a social approach that brings people from all walks of life together in a public movement to achieve the ambitious goal of eliminating TB from the country by 2025.