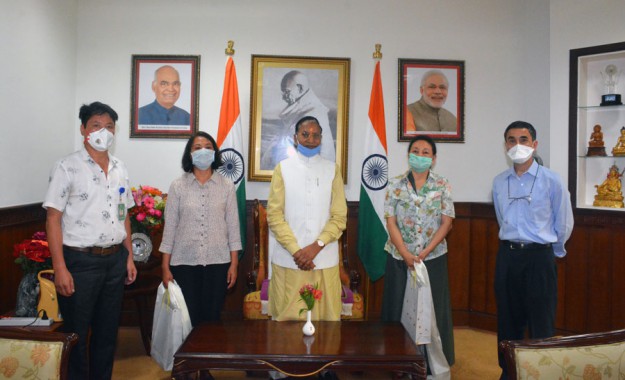 Thursday, Jul 09, 2020 13:15 [IST]
Last Update: Thursday, Jul 09, 2020 07:15 [IST]
Governor dedicates birthday to Covid frontliners
SE Report
GANGTOK: Governor Ganga Prasad dedicated his birthday celebration to frontline warriors of Sikkim to thank them for their for the services and efforts of thousands of 'frontline warriors' - doctors, nurses, police personnel and sanitary workers - who have been at the forefront of the State's battle against the coronavirus pandemic.
As a 'thank you' gesture for their services rendered during these tough times of global pandemic, a group of doctors, Sikkim Police and sanitary workers were honoured and acknowledged by the Governor on his 84th birthday celebration at Raj Bhawan today, informs an official release.
Thanking the entire frontline warriors of the State, the Governor said: "You all are real frontline warriors, I salute you all for your dedication and commitment. Sikkim has waged a strong fight against Covid-19 due to courageous frontline warriors who have cared and cured many patients in the State. On my birthday, I got an opportunity to say "Thank You" to frontline Covid-19 worriers for their endeavour services."
As a token of love, some gifts and sweet packets were given to the representatives of doctors from STNM hospital, Sikkim Police and sanitary workers from Raj Bhawan, the release mentions.