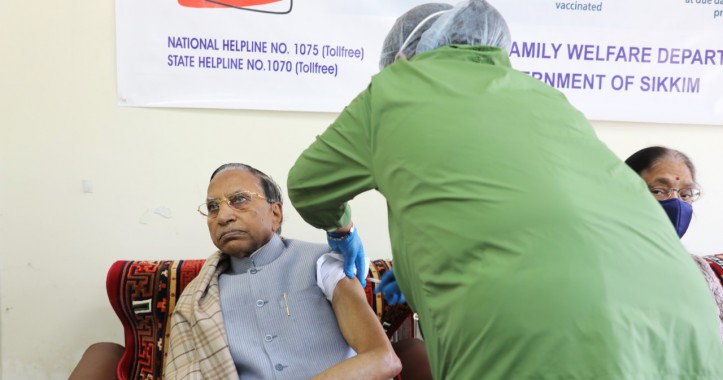 Thursday, Mar 04, 2021 07:15 [IST]
Last Update: Thursday, Mar 04, 2021 01:44 [IST]
Governor & First Lady takes Covid vaccine
DICHEN ONGMU
GANGTOK,: Governor Ganga Prasad on Wednesday kicked off the next phase of Covid vaccination in the State by getting a shot of Covid-19 vaccine at New STNM Hospital here. First Lady Kamla Devi also received the vaccine.
Prasad, 84, expressed his satisfaction after receiving the vaccine and staying under observation for 30 minutes in the hospital.
"I am perfectly fine and normal like I was before being vaccinated and so is my wife. One need not go by the rumours and fear about vaccine as it is for our own good and safety. I urge everyone to take the vaccine," said the Governor.
The First Lady, 80, thanked the hospital staff for administering the vaccine.
Health minister Dr. M.K. Sharma and Health department officials were also present during the vaccination.