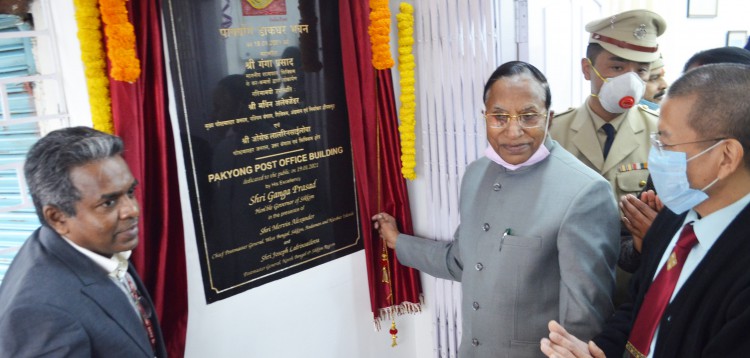 Wednesday, Jan 20, 2021 08:00 [IST]
Last Update: Wednesday, Jan 20, 2021 02:25 [IST]
Governor inaugurates Pakyong post office building
AJAY THAMI
PAKYONG, : Governor Ganga Prasad today inaugurated Pakyong Post Office building at Pakyong bazaar. Present on the occasion were Rhenock MLA Bishnu Kumar Khatiwara, West Bengal, Sikkim and Andaman & Nicobar Islands Chief Postmaster General Mervin Alexander, North Bengal and Sikkim Region Postmaster General Joseph Lalrinsailova, Pakyong ADC (Dev) Tenzing Denzongpa, SDM Milan Rai, BDO Nilkantha Bhandari, Pakyong Yakten panchayat president Januka Sharma and officials from various departments and staff of the post office.
The Governor congratulated the staff of the posts office for having their own office building. He appreciated the staff of the posts offices for their services to the public during lock down. He also urged the people to take benefits of the schemes provided by the post offices.
Mervin Alexander said the Department of Posts is planning to sell medicines in near future apart from normal financial transaction and mail services.
He informed that the four-storeyed building was built at the cost of Rs. 55 lakh.
On the occasion, a special cover made by Department of Posts, Ministry of Communications was released by the Governor.
The Governor also handed away a 'Sukanya Samridhi Yojana' passbook to a local girl child.