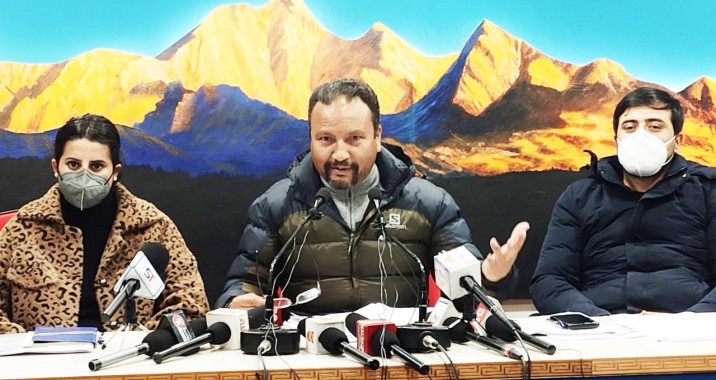 Thursday, Jan 13, 2022 08:00 [IST]
Last Update: Thursday, Jan 13, 2022 02:19 [IST]
Groundwork being laid to murder Chamling: SDF
Staff Reporter
GANGTOK,: Opposition SDF on Wednesday claimed that the present violence is the groundwork being prepared to "murder" party president and former Chief Minister Pawan Chamling.
Stone pelting had occurred at Tarey Bhir in Sadam on January 9 when Chamling was travelling with SDF supporters to meet a bereaved family.
"The SKM is constantly questioning in media platforms as to why our party president is moving around in a large convoy of vehicles. There is a room for doubt on such line of questioning. Chamling had been heckled in past also while attending a funeral in West Sikkim. The recent Tarey Bhir incident can be the groundwork for murdering Chamling. Any day he can be murdered during such attacks for which groundwork is being done with such incidents," said SDF spokesperson J.B. Darnal in a press meet on Tuesday.
The SDF had on Wednesday submitted memorandums to the State government seeking security cover for Chamling in view of the recent incidents and "deteriorating law and order" situation.
Asked on this, Darnal said: "Our demand is security cover for our party president. What kind of security should be provided to a person who has served as a Chief Minister for 25 years, the Home department knows."
To another question, the SDF spokesperson maintained that a murderous attack on the former Chief Minister cannot be ruled out. "We have seen their (SKM) activities. Whenever Chamling comes out of his house to attend a social programme, they assemble people to heckle, attack and throw stones on him. Is this not the groundwork for murdering him?, he said.
At the press meet, the SDF also released a video clip showing purported SKM supporters chasing the convoy of Chamling at Sadam that later ended in a stone pelting incident.
Darnal added that police have failed to take any action on the FIRs made against SKM workers for the past incidents of assault on SDF workers and their party president. However, police are prompt to take action against SDF supporters and some of our workers have been arrested by Melli police for the Tarey Bhir incident, he said.