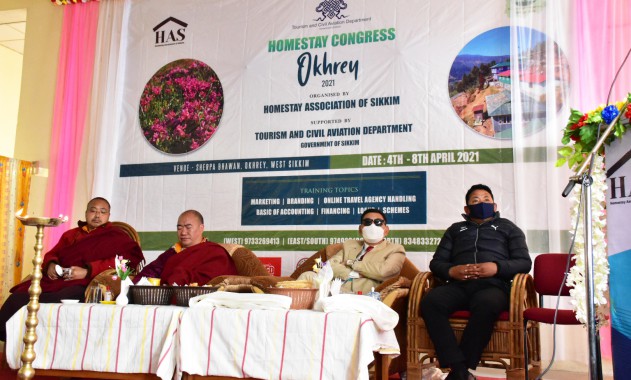 Tuesday, Apr 06, 2021 08:00 [IST]
Last Update: Tuesday, Apr 06, 2021 02:23 [IST]
Homestay congress at Okhrey
PRITAM LAMA
GEYZING/SOMBARIA: The first Homestay Congress aimed at regional homestay development in Sikkim started today at Okhrey, West Sikkim.
The State-level event organised by Homestay Association of Sikkim (HAS) and supported by Tourism department has participation of the homestay stakeholders of the State.
HAS president Jigmee Dorjee Bhutia said the Homestay Congress is organised with an aim to provide directions and required support to the homestay stakeholders of the State.
"We organised this event with an aim to provide training on how to run a homestay. Also, the participants will get exposure and opportunity to interact with fellow homestay stakeholders from across the State. Homestay tourism has various scopes and Homestay Association of Sikkim is focused on developing homestay tourism in a proper way and take homestay tourism in Sikkim to next level."
He also highlighted the rising business prospects of homestays and called upon the youth to participate in homestay tourism sector. Home tourism plays a vital role in promoting Sikkim's culture, he said. He added that Sikkim's rich culture and tradition will be a unique selling point for homestay tourism in the State.
As part of the event, trainings and workshops are also being held for the homestay operators and aspirants.
On the first day of the four-day session, the participants were taught on registration, office management among others. They were also trained on online and offline marketing.
The inaugural ceremony had State Bank of Sikkim (SBS) chairman D. B. Gurung as the chief guest.
Gurung, in his address, said homestays is one of the major tourism sectors and the State government is focusing on developing and supporting the homestay tourism in the State. "Homestay tourism is a sector which preserves and promotes our culture and tradition for livelihood and economy without harming one's culture and tradition," he said.
The congress has participation of 125 aspiring homestay operators from across the State.